LEGO® Power Functions Battery Box
LEGO®
LEGO® Power Functions Battery Box
Available now
LEGO® Power Functions Battery Box

4.3962

5

53

.
rating.prefix4.4rating.postfix
Limit 5
Limit
We restrict the limit a household can buy in order to be fair to all of our fans. If you've already reached that limit through previous orders your order may be cancelled.
Warning!
Choking Hazard.
Small parts.
Product Details
Add more power to your LEGO® Power Functions!
Item

8881
VIP Points

6

VIP Points

The VIP Points value shown is an estimate and actual points will be calculated when you check out.
Ages

7+
Pieces

1
Features
Give even more power and movement to your LEGO® creations with an extra battery box to supply power to your LEGO Power Functions motors!
Each battery box can power 2 XL-Motors or 4 M-Motors at the same time.
Requires 6 AA (1,5V) batteries, not included.
Building Instructions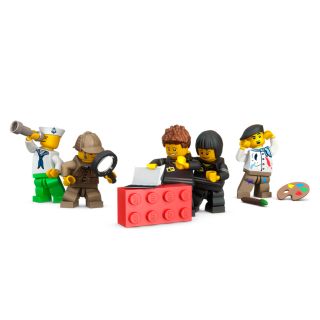 Customer Reviews
Overall Rating
rating.prefix4.4rating.postfix
92% would recommend this product.
Rating
Overall Experience
Play Experience
rating.prefix4.4rating.postfix
Level of Difficulty
rating.prefix2.3rating.postfix
Value for Money
rating.prefix4.5rating.postfix
Please note that by submitting a helpfulness vote on a review your IP address is collected and stored by our trusted third party service provider for the sole purpose of preventing multiple entries from the same IP address. To see how to control your personal data, please see our Privacy policy.
Reviews
rating.prefix4rating.postfix

A few suggestions for improvement.

1. One of batteries is getting fit into a painfully deep slot. You might flip your fingernail if you try to pry it out without any tools. Maybe install a simple cloth thread piece or a flexible film to help out battery extraction? 2. Six 1.5 V batteries are actually making a series connection: totaling 9 V output. So, why not just use a single 9 V battery instead of heavy and space consuming 6 AA batteries? 3. I know this is a toy and needs to be super safe. But the current output is a bit lacking. (I believe it clamps at around 800 mA?) It cannot operate two L motor with 2 kg of load continuously. The fuse kicks in too early. 4. Li-Ion batteries are being used on every mobile devices in these days. You can purchase them (even AA sized ones) in many tech shops or Amazon. Each of them provide 3.7 V of output. So, why not rather make this thing by thinning out 3 of AA slots to use those Li-Ions with a FET to regulate output voltage to 9V? It's gonna save a lot of space while improving operation period a lot!

Play Experience

rating.prefix3rating.postfix

Value for Money

rating.prefix3rating.postfix

Building Experience:

Expert LEGO builder

4

5

rating.prefix1rating.postfix

The Weak Link in Power Functions

This battery box is dragging the whole Power Functions line down. It is too big, too heavy, and fantastically hard to change the batteries for it. Because of awkward angles it takes a fair amount of shaking and poking with a screwdriver to get the batteries out. These weaknesses combine to make the result even worse: because of the weight, the battery pack has to be built into the center of mass of the model, which means its tempting to use it as an essential structural element. That in turn makes changing the batteries into major surgery on the model. There has to be a better way! I try to use NiMH rechargable batteries for all household applications, but they need changing every 6 weeks, and they're heavier than alkaline, both of which hurt this product. I know they make a non-modular battery pack, but it costs as much as a big lego set, and will it still work in ten years? I doubt it. If you ask me, they should make a 6xAAA battery pack, where its much easier to change out the batteries. It might not be a valid power source for the giant pig 4-motor Bulldozer model that I suspect this pack was mainly designed for. But it would be a more reasonable size and bulk for normal vehicles. On the plus side: This part is pretty cheap by Power Functions standards. And the reliance on standard, AA-sized batteries means that these battery boxes will work just as well for your children as they will for you. Actually they will probably work better, since we can expect some improvements in batteries in that time.

Play Experience

rating.prefix1rating.postfix

Value for Money

rating.prefix3rating.postfix

1

5

rating.prefix4rating.postfix

I would recommend this to a friend!

What's up with that!? It is huge!! I got this along with the M-Motor and the IR Remote(you can read my reviews on these items also). How are you supposed to fit this on to your LEGO creations? Ok really, I could manage to fit it on but it took a while. I got this for a great price. It works very well and it has a respectable battery life. I would recommend this to a friend but only if they were experienced LEGO builders and only with the reciver and(of course)a motor.

Play Experience

rating.prefix4rating.postfix

Value for Money

rating.prefix5rating.postfix

4

5

rating.prefix5rating.postfix

I would recommend this to a friend!

I think this Battery Box is very useful because you can give more power to your motors or to create a Power Functions model, but I'd like if it would be in set that motors, receivers and a remote control.

Play Experience

rating.prefix5rating.postfix

Value for Money

rating.prefix5rating.postfix

5

5