Product Details
Take the rocks down the track with the Deluxe Train Set!
Item

10508
Ages

2-5
Pieces

134
Features
Includes 3 LEGO® DUPLO® figures
Features modern DUPLO train with real sound effects, 2 wagons, truck, building with crane, DUPLO-brick stone quarry, tunnel/bridge section and lots more track
Decorated DUPLO elements include traffic light, fueling pump, fruit, tools, furniture, fencing and oil can
Extra DUPLO bricks and flowers also included
Stone quarry features DUPLO-brick stones, tipping function, door and window
Load up with rocks at the quarry!
Unload with the working crane
Operate the working crane winch
Drive over the bridge and through the tunnel
Refuel the train and hear the real sound effects!
Tracks do not conduct electricity and therefore are not compatible with LEGO 9V trains
For use with DUPLO trains only
DUPLO products are specially designed to be fun and and safe for younger hands
Includes over 68" (175cm) of track
Train measures over 3" (10cm) high, 5" (15cm) long and 2" (7cm) wide
Long wagon measures over 3" (9cm) high, 6" (16cm) long and 2" (6cm) wide
Short wagon measures over 2" (7cm) high, 6" (16cm) long and 2" (6cm) wide
Building with crane measures over 11" (28cm) high, 9" (24cm) wide and 6" (16cm) long
Stone quarry measures over 6" (17cm) high, 11" (30cm) wide and 3" (9cm) long
Fueling station measures over 5" (13cm) high, 6" (16cm) wide and 2" (6cm) long
Truck measures over 2" (6cm) high, 4" (11cm) long and 3" (8cm) wide
Building Instructions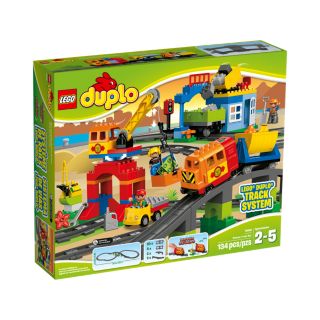 Customer Reviews
Overall Rating
Average rating4.1out of 5 stars
83% would recommend this product.
Rating
Overall Experience
Play Experience
Average rating4.6out of 5 stars
Level of Difficulty
Average rating2.7out of 5 stars
Value for Money
Average rating3.7out of 5 stars
Please note that by submitting a helpfulness vote on a review your IP address is collected and stored by our trusted third party service provider for the sole purpose of preventing multiple entries from the same IP address. To see how to control your personal data, please see our Privacy policy.
Reviews