Product Details
Explore the secrets of the sea with Ariel and Flounder.
Item

41145
Ages

5-12
Pieces

222
Features
Slide back the glass door and step inside Disney Princess™ Ariel's Cave. Swim over to Ursula's grotto and place Ariel at the revolving stand to reveal her human legs. This set is easy to build and perfect for fans of Disney's The Little Mermaid to reenact their favorite scenes or create new stories of their own. Includes 2 mini-doll figures plus a Flounder figure.
Building Instructions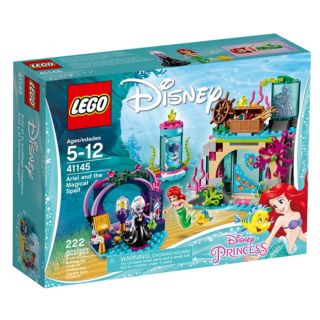 Customer Reviews
Overall Rating
rating.prefix5rating.postfix
100% would recommend this product.
Rating
Overall Experience
Play Experience
rating.prefix5rating.postfix
Level of Difficulty
rating.prefix2.3rating.postfix
Value for Money
rating.prefix4.7rating.postfix
Please note that by submitting a helpfulness vote on a review your IP address is collected and stored by our trusted third party service provider for the sole purpose of preventing multiple entries from the same IP address. To see how to control your personal data, please see our Privacy policy.
Reviews
rating.prefix5rating.postfix

I would recommend this to a friend!

I am in love with this set! I'm a huge Disney fan and Little Mermaid is my favorite so I probably would've gotten this no matter what but I am SO impressed with all the fun details and action features. The wall with the fish on it slides so you can access Ariel's grotto. The mirror sticker in her grotto has a dinglehopper! The sticker of her treasures has the candelabra with a knife and spoon just like the movie. The next level has shipwreck type items from when Eric's ship went down. There's his statue, a treasure chest that opens, and a ship's wheel that spins (think tiny fidget spinner, my kids love it). Ursula's cave has tentacle type arms on the side (fitting) that you can pose and make everything look extra ominous. It also has the magic scroll (printed!!!) and it has Ariel's signature, so well done. There's a quill for Ariel to sign with and a potion for Ursula to make her spell with. The Ursula mini doll is really fun too and comes with her magical necklace that holds Ariel's voice. The chamber for Ariel to turn into a human is one of the coolest parts. There's a set of human legs in there so she can "transform" into a human. Then she's ready to walk straight into the Magical Kiss lego set and meet her prince! I would've liked to see a couple eels (captured mermaids) at the front of Ursula's cave. In the future, I'd like to see a Little Mermaid wedding set--maybe with a way to transform Ursula into Vanessa--with bride Ariel, bridegroom Eric, and a ship of some sort. Just dreaming :) This set allows you to recreate so many fun movie scenes and there is so much play potential. My kids have already played with it for hours!

Play Experience

rating.prefix5rating.postfix

Level of Difficulty

rating.prefix2rating.postfix

Value for Money

rating.prefix5rating.postfix

Building Experience:

Advanced LEGO builder

5

5

rating.prefix5rating.postfix

I would recommend this to a friend!

I absolutely love this set. It's colors are very vibrant and the figures are very well done. My only real complaint is that it didn't include Sebastian!

Play Experience

rating.prefix5rating.postfix

Level of Difficulty

rating.prefix3rating.postfix

Value for Money

rating.prefix4rating.postfix

Building Experience:

Intermediate LEGO builder

5

5

rating.prefix5rating.postfix

I would recommend this to a friend!

My little girl (age 5) is a new fan of The Little Mermaid and has been a builder since she was able to. We've graduated from the Duplo sets in the past year and was able to build the set herself with some help from me. She follows the pictures fairly well.

Play Experience

rating.prefix5rating.postfix

Level of Difficulty

rating.prefix2rating.postfix

Value for Money

rating.prefix5rating.postfix

Building Experience:

Novice LEGO builder

5

5