Product Details
Join the chase and protect the city!
Item

5005365
Ages

8+
Features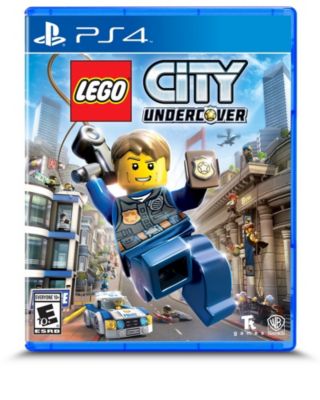 See More Features
Grab your badge and go undercover in LEGO® City on your PlayStation® 4! Become Chase McCain and hunt down the recently escaped criminal Rex Fury, to put an end to his massive crime wave. Visit over 20 distinct districts and investigate everything from car thieves to lost pigs in one of the most expansive LEGO video games to date. Explore and fight crime in LEGO City together with friends and family for the first time with the 2-player Co-Op mode. It's time to go undercover and protect the greatest city in the world!
Become LEGO® City super-sleuth Chase McCain as he tracks down notorious criminal and all-round bad guy, Rex Fury.
Explore, adventure and investigate through more than 20 distinct city districts.
Commandeer over 100 vehicles to chase down criminals or just cruise the urban jungle and check out the sights.
Fight crime and arrest the crooks using Chase's grapple gun and handcuffs.
Hang out with Chase, Officer Frank Honey, Chief of Police Dunby and paramedic Natalia Kowalski, along with more than 300 unlockable and playable LEGO® City characters.
Recruit your friends through the 2-player Co-Op and fight crime together in LEGO® City.
Only for use with your PlayStation® 4 computer entertainment system.
PlayStation® 4 system with a minimum of 14GB available disk space and Internet connection required.