Classic
LEGO®
Bricks Bricks Bricks
Available now
Bricks Bricks Bricks

4.5

5

2

.
rating.prefix4.5rating.postfix
Begrenzung 10
Begrenzung
Wir begrenzen die pro Haushalt erhältliche Stückzahl aus Gründen der Fairness gegenüber allen unseren Fans. Wurde diese Anzahl bereits durch bisherige Bestellungen erreicht, wird Ihre Bestellung u. U. storniert.
ÄHNLICHE PRODUKTE FINDEN
Produktdetails
Welcome to a world of building Bricks Bricks Bricks!
Artikel

10717
VIP-Punkte

59

VIP-Punkte

Die angezeigten VIP-Punkte dienen lediglich als Schätzwert. Die tatsächliche Anzahl wird bei der Kassenabwicklung errechnet.
Alter

4-99
Teile

1500
Funktionen
Enjoy endless creative fun with this LEGO® Classic 10717 Bricks Bricks Bricks set. Build whatever you can imagine with 1,500 brightly colored LEGO pieces, including building bricks, shapes, wheels, windows, doors and eyes. This set offers 3 levels of building complexity, and makes an excellent starter set for budding LEGO builders. Age-appropriate instructions for building and rebuilding your LEGO Classic creations are included in the box, with further building instructions and inspiration available online.
Includes 1,500 LEGO® pieces in vibrant colors, including building bricks, shapes, wheels, windows, doors and eyes.
This LEGO® Classic building set fosters open-ended creativity and imagination.
Create anything from a beautiful country house and gramophone with a spinning turntable, to a cute elephant with its baby and lots more—the possibilities are endless!
Provides variable degrees of building complexity to suit builders on different levels.
Makes a perfect starter set for budding LEGO® builders.
Visit LEGO.com/classic for additional building instructions, fun videos, ideas and inspiration.
Comes with a handy brick separator to make building and rebuilding easier.
Let creativity grow with LEGO® Classic sets!
Bauanleitungen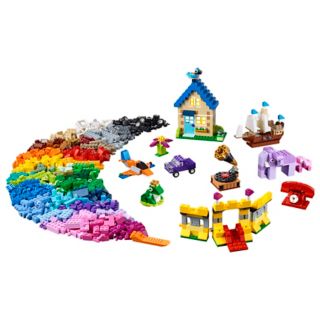 Produkt-Bewertungen
Gesamtbewertung
rating.prefix4.5rating.postfix
100% der Kunden, die eine Bewertung verfasst haben, würden dieses Produkt empfehlen.
Bewertung
Gesamterfahrung
Spielerfahrung
rating.prefix5rating.postfix
Schwierigkeitsgrad der Herausforderung
rating.prefix1rating.postfix
Preis-Leistungs-Verhältnis
rating.prefix4.5rating.postfix
Please note that by submitting a helpfulness vote on a review your IP address is collected and stored by our trusted third party service provider for the sole purpose of preventing multiple entries from the same IP address. To see how to control your personal data, please see our Privacy policy.
Bewertungen
rating.prefix4rating.postfix

Würde ich einem Freund empfehlen!

[See attached images for full list of pieces included in this set] As an adult just getting back into Lego, this seemed like the largest collection of assorted bricks available for purchase. There's 1500 pieces in all different colours. It was pretty much everything I expected, however, there's...

Spielerfahrung

rating.prefix5rating.postfix

Schwierigkeitsgrad der Herausforderung

rating.prefix1rating.postfix

Preis-Leistungs-Verhältnis

rating.prefix4rating.postfix

Bauerfahrung:

Intermediate LEGO builder

4

5

rating.prefix5rating.postfix

Würde ich einem Freund empfehlen!

This is going to be a Christmas gift for my son, who is 3 (he'll turn 4 a month after Christmas.) I wish it was Christmas tonight, I am so excited to give this to him! He has a good amount of Duplo right now and loves to build with those, and also just a few classic Legos. He is so determined,...

Spielerfahrung

rating.prefix5rating.postfix

Preis-Leistungs-Verhältnis

rating.prefix5rating.postfix

Bauerfahrung:

Novice LEGO builder

5

5