MINDSTORMS®
LEGO®
EV3 Ultrasonic Sensor
Temporarily out of stock
EV3 Ultrasonic Sensor

3.5

5

4

.
rating.prefix3.5rating.postfix
SOORTGELIJKE PRODUCTEN ZOEKEN
Productgegevens
Item

45504
VIP-punten

50

VIP-punten

De waarde van de VIP-punten wordt bij benadering weergegeven. Het daadwerkelijke aantal punten worden berekend bij het afrekenen.
Leeftijden

10+
Stenen

1
Kenmerken
The digital EV3 Ultrasonic Sensor generates sound waves and reads their echoes to detect and measure distance from objects. It can also send single sound waves to work as sonar or listen for a sound wave that triggers the start of a program. Students could design a traffic-monitoring system and measure distances between vehicles, for instance. There is an opportunity to discover how the technology is used in everyday items like automatic doors, cars and manufacturing systems.
Measures distances between one and 250 cm (one to 100 in.)
Accurate to +/- 1 cm (+/- .394 in.)
Front illumination is constant while emitting and blinks while listening
Returns true if other ultrasonic sound is recognized
Auto-ID is built into the EV3 software
Bouwinstructies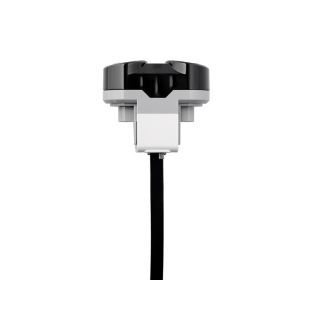 Productbeoordelingen Recensies
Algemene beoordeling
rating.prefix3.5rating.postfix
50% van de recensenten zou dit product aanbevelen.
Beoordeling
Algemenevaring
Speelervaring
rating.prefix3rating.postfix
Moeilijkheidsgraad
rating.prefix4rating.postfix
Waar voor je geld
rating.prefix4rating.postfix
Please note that by submitting a helpfulness vote on a review your IP address is collected and stored by our trusted third party service provider for the sole purpose of preventing multiple entries from the same IP address. To see how to control your personal data, please see our Privacy policy.
Recensies
rating.prefix5rating.postfix

Ik zou dit aanbevelen aan vrienden!

If you bought the EV3 home set, then buy this sensor with it. It's so usefull for a lot of things. I know the IR-Sensor can do this too but it can't do it well enough because it's not made for doing this! Really get this thing because you are going to love it!!!!

Speelervaring

rating.prefix5rating.postfix

Moeilijkheidsgraad

rating.prefix3rating.postfix

Waar voor je geld

rating.prefix5rating.postfix

Bouwervaring:

Intermediate LEGO builder

5

5

rating.prefix4rating.postfix

Not as accurate as the product specification

Ik zou dit aanbevelen aan vrienden!

I just got this and I found that it doesn't live up to the specification. It seems like it can only work with 1 inch distance to 100 inch distances. It doesn't work with 1 cm distance as mentioned in the spec "Measures distances between one and 250 cm (one to 100 in.) ". Also, less than 1 cm...

Bouwervaring:

Intermediate LEGO builder

4

5

rating.prefix1rating.postfix

I'm doing some fll stuff and I need an ultrasonic sensor but when my parents purchased it I tried programing it and used online tutorials and stuff but IT DOESN'T WORK!! They even shipped me a brick from a totally different series! WHAT?! When I put my hand near it the thing reads 255 cm!! I try having it stop when it reaches a place but as long as its a tiny bit off it doesn't work. Both "eyes" have to detect the thing so you have to be crystal clear. Also, the gyro sensor turns 90 degrees when you set it to 80.

Play Experience

rating.prefix1rating.postfix

Level of Difficulty

rating.prefix5rating.postfix

Value for Money

rating.prefix3rating.postfix

1

5

rating.prefix4rating.postfix

Cool! it is cool yeah cool its very cheap to...

4

5