Minecraft™
LEGO®
The Zombie Cave
Temporarily out of stock
The Zombie Cave

5

5

2

.
rating.prefix5rating.postfix
ÄHNLICHE PRODUKTE FINDEN
Produktdetails
Enter the Zombie Cave at your peril!
Artikel

21141
VIP-Punkte

26

VIP-Punkte

Die angezeigten VIP-Punkte dienen lediglich als Schätzwert. Die tatsächliche Anzahl wird bei der Kassenabwicklung errechnet.
Alter

7-14
Teile

241
Funktionen
Activate the TNT function to blast your way into the bat-infested Zombie Cave. Battle a zombie and a baby zombie, and mine for coal, redstone, gold and diamond ores. Enjoy hands-on adventures with this LEGO® MInecraft™ 21141 The Zombie Cave set—designed for young fans of the highly successful sandbox video game. Combine this set with other LEGO Minecraft models to create your own unique LEGO Minecraft universe. Also includes a Steve LEGO Minecraft minifigure.
Includes a Steve LEGO® Minecraft™ minifigure, plus zombie, baby zombie and bat figures. ● Features a buildable Minecraft™ cave setting with TNT blasting function, ladder, furnace, lava and coal, redstone, gold and diamond-style ore elements. ● Activate the TNT function to blast your way into the cave. ● Pull the lever to send the gravel blocks tumbling. ● Battle to defeat the hostile zombie and baby zombie. ● Also includes an iron pickaxe element. ● Accessory elements include a cookie, torch and a furnace. ● Set your imagination free—rebuild the set for more LEGO® Minecraft™ creations! ● Measures over 4" (11cm) high, 7" (19cm) wide and 5" (14cm) deep.
Bauanleitungen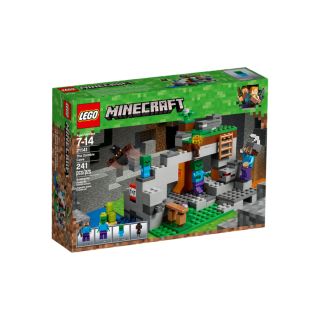 Produkt-Bewertungen
Gesamtbewertung
rating.prefix5rating.postfix
100% der Kunden, die eine Bewertung verfasst haben, würden dieses Produkt empfehlen.
Bewertung
Gesamterfahrung
Spielerfahrung
rating.prefix5rating.postfix
Schwierigkeitsgrad der Herausforderung
rating.prefix2.5rating.postfix
Preis-Leistungs-Verhältnis
rating.prefix4.5rating.postfix
Please note that by submitting a helpfulness vote on a review your IP address is collected and stored by our trusted third party service provider for the sole purpose of preventing multiple entries from the same IP address. To see how to control your personal data, please see our Privacy policy.
Bewertungen
rating.prefix5rating.postfix

Würde ich einem Freund empfehlen!

Built by my 9yr old son, this is his review. I enjoyed building this first new set I've bought in the new range. It was an easy set to build and is fun to play with. I especially like the gravel trap which allows the blocks to fall into the lava below. The exploding TNT block is cool and the tiny bat is a great new figure. Have fun...

Spielerfahrung

rating.prefix5rating.postfix

Schwierigkeitsgrad der Herausforderung

rating.prefix3rating.postfix

Preis-Leistungs-Verhältnis

rating.prefix4rating.postfix

Bauerfahrung:

Intermediate LEGO builder

5

5

rating.prefix5rating.postfix

A lovely looking set with a LOT of play value!

I would recommend this to a friend!

This is my first Lego Minecraft set, and I must say, on first glance, it looks really good! The whole cave build is big enough for the price and the volume of stuff you get for your money is also very good. I like how the designers have also incorporated a lake next to the cave ; it creates a nicer...

Play Experience

rating.prefix5rating.postfix

Level of Difficulty

rating.prefix2rating.postfix

Value for Money

rating.prefix5rating.postfix

Building Experience:

Advanced LEGO builder

5

5