LEGO® Power Functions M-Motor
LEGO®
LEGO® Power Functions M-Motor
Available now
LEGO® Power Functions M-Motor

4.1071

5

56

.
rating.prefix4.1rating.postfix
Limit 20
Limit
We restrict the purchase limit available to a single household to ensure fairness for all of our fans. If you've already reached this limit through previous orders, your order may be cancelled.
Warning!
Choking Hazard.
Small parts.
Product Details
Add a spin to your LEGO® Power Functions models!
Item

8883
VIP Points

9

VIP Points

The VIP Points value shown is an estimate and actual points will be calculated when you check out.
Ages

7+
Pieces

1
Features
Build an extra medium-strength, medium-sized M-Motor into your LEGO® creations and watch things start moving!
Use the M-Motor for speed.
Requires battery box (Item #8881, #8878 + #45517, or #88000), not included.
Building Instructions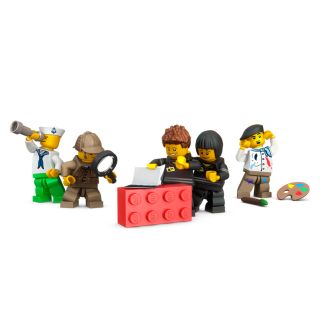 Customer Reviews
Overall Rating
rating.prefix4.1rating.postfix
86% would recommend this product.
Rating
Overall Experience
Play Experience
rating.prefix4.2rating.postfix
Level of Difficulty
rating.prefix1.7rating.postfix
Value for Money
rating.prefix4.1rating.postfix
Please note that by submitting a helpfulness vote on a review your IP address is collected and stored by our trusted third party service provider for the sole purpose of preventing multiple entries from the same IP address. To see how to control your personal data, please see our Privacy policy.
Reviews
rating.prefix5rating.postfix

I would recommend this to a friend!

After having my Emerald Night for about a year now, I wanted to make a MOC steam locomotive. The 8882 XL-motor has more than plenty power for trains, but it's a bit bulky and requires a rather large loco body to be built into. The XL-motor can pull a train for about 3 hours on a fully charged 8878 rechargable battery box. I bought a brand new 8883 M-motor and mounted it in a wheel and gear setup similar to the Emerald Night. It runs great for almost 2 hours pulling 2 coaches, but the motor gets very warm. After cooling for about 15 minutes the motor is ready again. If used with RC , changing direction and stops will give you about 5 hours of running power on a fully charged 8878. NOT BAD AT ALL !! Reading the other reviews of this motor, I'm prepared that I might actually wear this motor out, and change it after a while, but so far, after running trains for more than 20 hours on this motor, no problems yet. Plenty power for it's size, and fantastic for trains and other power functions. The size of this motor makes it perfect for fitting into (smaller) trains.

Play Experience

rating.prefix5rating.postfix

Level of Difficulty

rating.prefix2rating.postfix

Value for Money

rating.prefix5rating.postfix

Building Experience:

Advanced LEGO builder

5

5

rating.prefix5rating.postfix

I would recommend this to a friend!

I bought this at my local Lego store to go with the Creator Expert Roller Coaster. The motor is very powerful and is pretty quiet. It is slightly overpriced, but it does its job well.

Play Experience

rating.prefix5rating.postfix

Level of Difficulty

rating.prefix1rating.postfix

Value for Money

rating.prefix4rating.postfix

Building Experience:

Advanced LEGO builder

5

5

rating.prefix4rating.postfix

I would recommend this to a friend!

As with the Large PF motor, the PF Medium motor is a little expensive for what it is, but is still a very useful motor. It is a perfect balance of size and performance for many applications, and attaches perfectly onto a PF linear actuator. This motor delivers twice the torque of the older 9v motors, as well as a faster rotation speed. It is also much less breakable than those older motors. The shape and size mean that it can easily fit into narrow spaces, and the new design means that it can disguise as a decorative piece anywhere on a technic model, meaning that it is much easier to motorize a technic model than it was with the 9volt motors. One of the only downsides is that the no load current consumption is very high due to the iternal gearing.

Play Experience

rating.prefix4rating.postfix

Value for Money

rating.prefix3rating.postfix

4

5

rating.prefix3rating.postfix

I got two of these motors for Christmas and they were not what i expected. Although they may be strong for their size, it is still not that great strengh wise. However it is very fast so it gives you the option to gear it down for more power (which is exactly what I did). another pro is that you can run up two four of them from a single battery box. I will say that is much easier to intagrate into studed creations because it has a small base that can fit onto studs. I will now do a motor comparison for your benifit. M-motor vs. XL-motor. The xl-motor is way better for big creations and if you are going to buy a pf motor or two, then spend the extra two bucks and get some real pf power. M-motor vs. NXT Servo Motor. There is no comparison whatsoever. hands down the nxt servo has better performance, but the price may be the deciding factor for you. here are the numbers: NXT Servo Motor: $20 vs. PF M-Motor $7.50. The price for power: NXT Brick: $150 vs. PF Battery Box: $7. For rechargeable cababilities: NXT Brick: $150, NXT Rechargeable Battery: $55, NXT Rechargeable Battery Transformer: $24 vs. PF Rechargeable Battery Box: $50. There are the numbers, use them to your advantage, but in my opinion, if you are going to buy a PF motor, get the XL-motor every time, because the M-Motor just doesn't cut it for power and tourqe.

Play Experience

rating.prefix4rating.postfix

Value for Money

rating.prefix3rating.postfix

3

5