Carnotaurus Gyrosphere Escape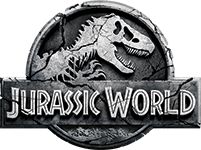 Jurassic World™
LEGO®
Carnotaurus Gyrosphere Escape
Available now
Carnotaurus Gyrosphere Escape

4.8571

5

7

.
rating.prefix4.9rating.postfix
Begrenzung 5
Begrenzung
Wir begrenzen die pro Haushalt erhältliche Stückzahl aus Gründen der Fairness gegenüber allen unseren Fans. Wurde diese Anzahl bereits durch bisherige Bestellungen erreicht, wird Ihre Bestellung u. U. storniert.
ÄHNLICHE PRODUKTE FINDEN
Produktdetails
Escape from the rampaging Carnotaurus!
Artikel

75929
VIP-Punkte

89

VIP-Punkte

Die angezeigten VIP-Punkte dienen lediglich als Schätzwert. Die tatsächliche Anzahl wird bei der Kassenabwicklung errechnet.
Alter

7-12
Teile

577
Funktionen
Flee the flying lava rocks and a deadly dinosaur on Isla Nublar, with this dramatic LEGO® Jurassic World™ 75929 Carnotaurus Gyrosphere Escape play set. Help Owen, Claire and Franklin make their escape in the Gyrosphere or truck, featuring a 2-seater cab with sunroof, stud shooter, mobile control center and Gyrosphere trailer with launch function. The overgrown Gyrosphere station has an exploding lava rocks function, Gyrosphere launcher and a dinosaur nest. This fun toy includes 3 minifigures and a Carnotaurus dinosaur figure.
Includes 3 minifigures: Owen, Claire and Franklin, plus 1 dinosaur figure and a baby dinosaur element.
Features a truck with a trailer and mobile control center, plus an overgrown Gyrosphere station.
Truck features a 2-seater cab with sunroof and stud shooter, attached to a mobile control center with computer and cabinets, plus a detachable trailer with Gyrosphere launch function.
Overgrown Gyrosphere station features 5 lava rocks, eruption function, dinosaur nest and a Gyrosphere launcher.
Carnotaurus dinosaur features posable limbs and snapping jaws.
Activate the erupting lava function and help the heroes dodge the falling rocks!
Launch the Gyrosphere from the trailer or overgrown Gyrosphere launcher, and send it racing to escape the chasing Carnotaurus!
Also includes a tranquilizer gun.
Accessory elements include a shovel and 3 dinosaur eggs.
Truck measures over 4" (12cm) high, 5" (15cm) long and 3" (8cm) wide.
Trailer measures over 3" (9cm) high, 5" (15cm) long and 3" (10cm) wide.
Carnotaurus dinosaur figure stands over 5" (14cm) tall.
Overgrown Gyrosphere station measures over 6" (16cm) high, 4" (12cm) wide and 7" (20cm) deep.
Gyrosphere measures over 2" (6cm) across.
Bauanleitungen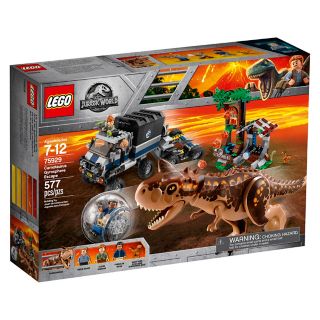 Produkt-Bewertungen
Gesamtbewertung
rating.prefix4.9rating.postfix
100% der Kunden, die eine Bewertung verfasst haben, würden dieses Produkt empfehlen.
Bewertung
Gesamterfahrung
Spielerfahrung
rating.prefix5rating.postfix
Schwierigkeitsgrad der Herausforderung
rating.prefix2.7rating.postfix
Preis-Leistungs-Verhältnis
rating.prefix4rating.postfix
Please note that by submitting a helpfulness vote on a review your IP address is collected and stored by our trusted third party service provider for the sole purpose of preventing multiple entries from the same IP address. To see how to control your personal data, please see our Privacy policy.
Bewertungen