Product Details
Match the Salvage M.E.C. vs. the Skulkin mech in a bounty-hunting duel!
Item

70592
Ages

8-14
Pieces

439
Features
Stage a mech battle between bounty-hunting Ronin—assisted by Nya—against Skulkin warriors. Ronin's highly posable mech features a golden bow with a spring-loaded shooter, a net-stud shooter, a rifle, and a compartment to store stolen treasure or ammunition. The posable Skulkin mech is wielding 2 silver dark blades and there are loads of other minifigure weapons, including Krazi's Double-Bladed Skulkin Axe, to dial up the conflict. Detach the skateboard or flyer from Ronin's Salvage M.E.C. to help him escape. Includes 4 minifigures.
Includes 4 minifigures: Ronin with special M.E.C. outfit, Nya with Skybound outfit, Krazi and Frakjaw.
The Salvage M.E.C. features an opening minifigure cockpit, posable arms and legs, a golden bow with spring-loaded shooter, net-stud shooter, rifle, compartment for storing stolen treasure or ammo, detachable skateboard, 2 golden blades, and a detachable escape flyer for Ronin or Nya on the back of the mech.
Detach the 2 golden blades from the arm and attach to the front of the escape flyer.
The Skulkin mech features a minifigure cockpit, posable arms and legs, and 2 silver dark blades.
Weapons include Krazi's Double-Bladed Skulkin Axe, Ronin's 2 black katana swords and Nya's 2 golden swords.
Accessory elements include a golden crystal, sausage and a skateboard.
Recreate and role-play epic scenes from the NINJAGO™: Masters of Spinjitzu TV show.
This set offers an age-appropriate building experience for ages 7-14.
The Salvage M.E.C. measures over 7" (18cm) high, 5" (13cm) long and 8" (21cm) wide.
Ronin's flyer measures over 1" (3cm) high, 3" (8cm) long and 2" (7cm) wide.
Skulkin Mech measures over 3" (8cm) high, 1" (3cm) long and 1" (4cm) wide.
Building Instructions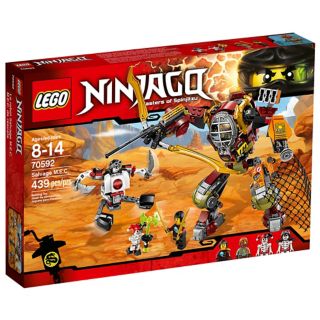 Customer Reviews
Overall Rating
Average rating4.8out of 5 stars
100% would recommend this product.
Rating
Overall Experience
Play Experience
Average rating4.8out of 5 stars
Level of Difficulty
Average rating2.8out of 5 stars
Value for Money
Average rating4.8out of 5 stars
Please note that by submitting a helpfulness vote on a review your IP address is collected and stored by our trusted third party service provider for the sole purpose of preventing multiple entries from the same IP address. To see how to control your personal data, please see our Privacy policy.
Reviews