Product Details
Discover all the friendly forest animals at the wildlife park!
Item

10584
Ages

2-5
Pieces

105
Features
Includes 3 LEGO® DUPLO® figures: a mom, dad and a child, plus 8 animal friends: a stag, doe, fawn, bear, bear cub, 2 foxes and a squirrel
Features a buildable car, park gate, barn, forest cave, tree and a slide
Accessories include 4 fences, 4 flowers, a kettle and a picnic blanket
Includes bricks decorated as a park entrance sign, nuts, mice, mushrooms and bees as story starters
Help young children discover wild animals and the kinds of food they eat
Rebuild the park in lots of different ways
Drive the LEGO® DUPLO® family around the park
Find all the wild animals and some baby animals too!
LEGO® DUPLO® products are specially designed to be fun and safe for younger hands
Park gate measures over 7" (18cm) high, 8" (22cm) wide and 2" (6cm) deep
Barn measures over 5" (13cm) high, 4" (12cm) wide and 2" (6cm) deep
Forest cave measures over 9" (24cm) high, 7" (19cm) wide and 3" (9cm) deep
Tree measures over 6" (16cm) high, 4" (12cm) wide and 2" (6cm) deep
Slide measures over 3" (8cm) high, 5" (14cm) wide and 1" (4cm) deep
Car measures over 2" (7cm) high, 5" (14cm) long and 2" (7cm) wide
Makes an ideal addition to any LEGO® DUPLO® Town collection
Building Instructions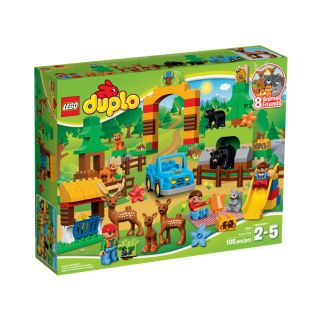 Customer Reviews
Overall Rating
Average rating5out of 5 stars
100% would recommend this product.
Rating
Overall Experience
Play Experience
Average rating5out of 5 stars
Level of Difficulty
Average rating1out of 5 stars
Value for Money
Average rating4.7out of 5 stars
Please note that by submitting a helpfulness vote on a review your IP address is collected and stored by our trusted third party service provider for the sole purpose of preventing multiple entries from the same IP address. To see how to control your personal data, please see our Privacy policy.
Reviews
Average rating5out of 5 stars

I would recommend this to a friend!

So i always think about what I'm getting when i buy Duplo. Does the cost seem appropriate for the sets? Not always however for this one it was pretty good for everything it came with. The play options are enormous for the kids! It's animals and people with a vehicle a log cabin and more are perfect for any duplo lover and parent!

Play Experience

Average rating5out of 5 stars

Level of Difficulty

Average rating1out of 5 stars

Value for Money

Average rating4out of 5 stars

Building Experience:

Expert LEGO builder

5

5

Average rating5out of 5 stars

I would recommend this to a friend!

This was purchased for my daycare. I wanted to expand the animals I have beyond the farm. This did a great job. Plus there were some other activities we discovered while playing. Conservation became part of the discussion.

Play Experience

Average rating5out of 5 stars

Value for Money

Average rating5out of 5 stars

Building Experience:

Advanced LEGO builder

5

5

Average rating5out of 5 stars

Great set for imagination!

I would recommend this to a friend!

This set has a lot of play value! There buildings are interesting to build and for young builders, show how you can make more complex structures (which are more structurally sound). There are a lot of great pieces in this set (swinging feed bucket, wonderful animal figures, tea kettle, a car). If your child is obsessed with Duplo animals (mine is), this is an excellent set. I hope that Lego releases some dinosaur Duplo sets. This would make a very nice starting place for Jurassic Park style adventures.

Play Experience

Average rating5out of 5 stars

Value for Money

Average rating5out of 5 stars

Building Experience:

Advanced LEGO builder

5

5