Présentation du produit
Spend a day in the snow at Elsa's Magical Ice Palace!
Numéro d'article

41148
Points VIP

72

Points VIP

Le nombre de points VIP indiqué ne constitue qu'une estimation. Les points réels seront calculés au moment du paiement.
Âges

6-12
Nombre de pièces

701
Fonctionnalités
Build a grand and glittering Ice Palace for Elsa and feel the magic and adventure with the special sliding bridge and revolving staircase functions. There's so much detail inside and out to help recreate scenes from Disney's Frozen and Frozen Fever, or to create new and exciting stories with these much-loved characters. Includes Elsa and Anna mini-dolls plus Olaf, Marshmallow and four Snowgies.
Includes Elsa with shiny fabric cape and Anna mini-doll figures, plus Olaf, Marshmallow and four Snowgies.
Elsa's Magical Ice Palace features grand entrance doors with sliding bridge function, a kitchen, table and stools, music area, magic revolving stairs function, upstairs bedroom with a big balcony and a slide.
Outside there is a playground with a tree, snow fort and a seesaw, plus a sleigh with three carriages.
Accessory elements include a teapot, glasses, cake, carrot, chocolate, sheet music, mirror and a rug.
Have fun building this enormous Ice Palace with special functions to add to the magic.
Play out scenes from Disney's Frozen and Frozen Fever.
Create new adventures with your favorite Frozen characters.
This set offers an age-appropriate build and play experience for ages 5-12.
Elsa's Magical Ice Palace measures over 12" (31cm) high, 11" (30cm) wide and 7" (19cm) deep.
Playground with snow fort measures over 2" (6cm) high, 7" (20cm) wide and 1" (4cm) deep.
Sleigh with carriages measures over 4" (12cm) long, 1" (3cm) wide and under 1" (2cm) high.
Instructions de montage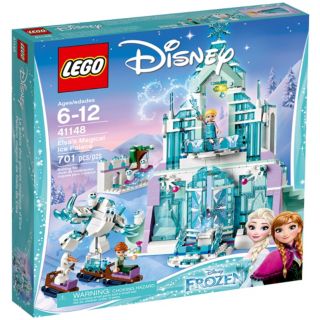 Avis Du Produit
Note globale
rating.prefix4rating.postfix
80% des clients recommanderaient ce produit.
Notation
Expérience globale
Expérience de jeu
rating.prefix4rating.postfix
Niveau de défi
rating.prefix2.8rating.postfix
Rapport qualité-prix
rating.prefix3.8rating.postfix
Please note that by submitting a helpfulness vote on a review your IP address is collected and stored by our trusted third party service provider for the sole purpose of preventing multiple entries from the same IP address. To see how to control your personal data, please see our Privacy policy.
Commentaires
rating.prefix5rating.postfix

Je recommanderais ce produit à un ami

I bought this for my 4yo daughter because, obviously she is a frozen fan and I like lego. We made it together over 3 days and it was a fantastic bonding time for us. There are some awesome features, the 3 bar hinge on the gate is particularly nice to me and the daughter loves it. Overall its the lego I wish I had as a kid and nothing beats the frozen palace to a young girl. 10 / 10 lego, thank you for making it and thanks for the memories.

Expérience de jeu

rating.prefix5rating.postfix

Niveau de défi

rating.prefix3rating.postfix

Rapport qualité-prix

rating.prefix5rating.postfix

Temps de construction:

4 heures

Expérience De Construction:

Advanced LEGO builder

As-tu trouvé ce commentaire utile ?

5

5

rating.prefix4rating.postfix

Perfect for the FROZEN FAN!

Je recommanderais ce produit à un ami

My daughter was super excited to receive this set. The way the door opens was a great surprise for her and the ice monster and sleigh have been very much enjoyed. Beautiful set which resembles the ice palace from the movie very well. Much loved set!

Expérience de jeu

rating.prefix5rating.postfix

Rapport qualité-prix

rating.prefix4rating.postfix

Expérience De Construction:

Advanced LEGO builder

As-tu trouvé ce commentaire utile ?

4

5

rating.prefix5rating.postfix

Je recommanderais ce produit à un ami

This is what my 3-year old was talking about for two months before christmas - this was the only thing she wanted from Santa. And she got it. With a nice big discount (only about 40 € in a local shop). We built this thing together, and she was having fun the whole time. She was also imitating EllieV-toys during the build (altough she does not speak much english - she just made noises like EllieV). It was hilairious to watch. The play value seems to be amazing - the kid loves it. Her favourites are the Elsa and Anna mini-dolls, Olaf and the little snowmen (whatever you call them). This is perfect lego toy for a Frozen fan.

Expérience de jeu

rating.prefix5rating.postfix

Niveau de défi

rating.prefix3rating.postfix

Rapport qualité-prix

rating.prefix5rating.postfix

Temps de construction:

2 heures

Expérience De Construction:

Advanced LEGO builder

As-tu trouvé ce commentaire utile ?

5

5

rating.prefix5rating.postfix

I would recommend this to a friend!

This set was purchased for me as a gift. I haven't built LEGO since I was a child so this was the perfect set to get me restarted! I was amazed at the design and mechanics, even though this is a medium-sized set for children. I do know that there are larger more detailed sets for older age groups but, for me personally, this is the perfect set for those who love Disney/Frozen and is the perfect set for those who want to be reintroduced to LEGO.

Play Experience

rating.prefix4rating.postfix

Level of Difficulty

rating.prefix3rating.postfix

Value for Money

rating.prefix4rating.postfix

Building Experience:

Novice LEGO builder

5

5