LEGO®
Busto
Retired Product
Busto

5

5

2

.
Average rating5out of 5 stars
FIND MORE PRODUCTS LIKE THIS
Product Details
Don't let anyone bust out of living jail cell Busto!
Features
This sweet MCPD tribe member is just too nice and will let prisoners talk their way to freedom. Keep Busto's jail cell closed or this charming Mixel will get in trouble with 41554 Kuffs!
Lock up prisoners in the living jail cell that is Busto of the 2016 LEGO® MIXELS™ MCPD tribe!
Busto features an opening jail cell, posable joints, translucent blue and red elements, plus a crowbar for play.
Collect all 3 MCPD tribe members in LEGO® MIXELS™ Series 7 to build the MAX!
Go to LEGO.com/MIXELS for exclusive building instructions, games, animations and much more.
Watch all your favorite MIXELS™ characters on Cartoon Network.
Stands over 1" (4cm) tall.
Building Instructions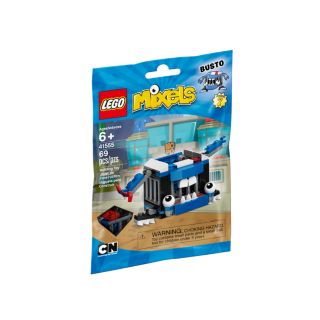 Customer Reviews
Overall Rating
Average rating5out of 5 stars
100% would recommend this product.
Rating
Overall Experience
Play Experience
Average rating4out of 5 stars
Level of Difficulty
Average rating2.5out of 5 stars
Value for Money
Average rating4.5out of 5 stars
Please note that by submitting a helpfulness vote on a review your IP address is collected and stored by our trusted third party service provider for the sole purpose of preventing multiple entries from the same IP address. To see how to control your personal data, please see our Privacy policy.
Reviews
Average rating5out of 5 stars

I would recommend this to a friend!

This is an interesting build, but it is the odd one out of the MCPD tribe. It does have a nice opening back to let in our out the nixel that comes with the set. It would of been nice to get more joints on him but it is still an overall good set.

Play Experience

Average rating3out of 5 stars

Level of Difficulty

Average rating3out of 5 stars

Value for Money

Average rating4out of 5 stars

Building Experience:

Expert LEGO builder

5

5

Average rating5out of 5 stars

I would recommend this to a friend!

Busto is a fun build. Colorful and moveable. Good value.

Play Experience

Average rating5out of 5 stars

Level of Difficulty

Average rating2out of 5 stars

Value for Money

Average rating5out of 5 stars

Building Experience:

Intermediate LEGO builder

5

5