NINJAGO®
LEGO®
Oni Titan
Back orders accepted, will be shipped by 19 December 2018
Oni Titan

5

5

2

.
rating.prefix5rating.postfix
Limite 5
Limite
È previsto un limite per gli acquisti per ogni famiglia per garantire un'adeguata disponibilità per tutti i clienti. Se è già stato raggiunto tale limite con gli ordini precedenti, l'ordine potrebbe essere annullato.
TROVA ALTRI PRODOTTI SIMILI
Dettagli del prodotto
Confront the Oni Titan with Nya and Lloyd!
Articolo

70658
Punti VIP

49

Punti VIP

Il valore dei punti VIP visualizzato rappresenta una stima. I punti effettivi saranno calcolati quando si completa l'acquisto.
Età

8-14
Pezzi

522
Caratteristiche
Help our ninja heroes rid NINJAGO® City of evil Lord Garmadon and the huge LEGO® NINJAGO 70658 Oni Titan. The highly posable Titan features disc shooters and huge katanas that it can grip in its hands. This set also includes 4 LEGO NINJAGO minifigures with assorted weapons—including Nya's double scythe and Lord Garmadon's buildable katanas—to inspire countless role-play battles.
Includes 4 LEGO® NINJAGO® minifigures: Lloyd, Nya, Lord Garmadon and Harumi.
Oni Titan features posable arms and legs, gripping hands, a disc shooter on each arm and a holster with 2 big katanas.
Weapons include Lloyd's sword, Nya's double scythe, Lord Garmadon's 2 buildable katanas and 2 buildable spears, and Harumi's 2 katanas.
Also includes Lloyd's buildable flag.
Recreate and role-play epic ninja action scenes from the NINJAGO® Masters of Spinjitzu TV show.
Measures over 9" (25cm) high, 2" (7cm) long and 7" (18cm) wide.
Istruzioni per la costruzione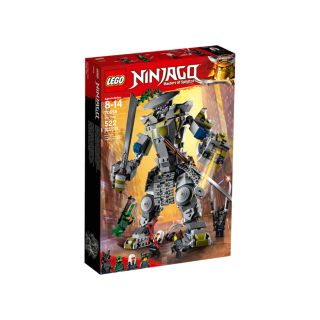 Recensioni Di Prodotti
Valutazione complessiva
rating.prefix5rating.postfix
100% degli autori di recensioni consiglierebbe questo prodotto.
Valutazione
Esperienza complessiva
Esperienza di gioco
rating.prefix4.5rating.postfix
Livello di difficoltà
rating.prefix3rating.postfix
Rapporto qualità-prezzo
rating.prefix4rating.postfix
Please note that by submitting a helpfulness vote on a review your IP address is collected and stored by our trusted third party service provider for the sole purpose of preventing multiple entries from the same IP address. To see how to control your personal data, please see our Privacy policy.
Recensioni
rating.prefix5rating.postfix

Sì, consiglio questo prodotto.

I'm a fan of LEGO mechs anyway so I was looking forward to building this set and it didn't disappoint. I love that the point of articulation result in so epic poses and that these joints are nice and stable. One of the disappointing things about Kai's Fire Mech from The LEGO NINJAGO Movie sets, was the weakness of joints and lack of posing. The use of parts, especially on the lower section of the Titan is very...

Esperienza di gioco

rating.prefix5rating.postfix

Livello di difficoltà

rating.prefix3rating.postfix

Rapporto qualità-prezzo

rating.prefix4rating.postfix

Esperienza Di Costruzione:

Expert LEGO builder

5

5

rating.prefix5rating.postfix

Sì, consiglio questo prodotto.

Fantastic set with an enjoyable build, AFOLS will love the display value and kids will love the play value. Good assortment of minifigures too (although we don't need Lloyd and Garmadon in every set). Highly recommend this one!

Esperienza di gioco

rating.prefix4rating.postfix

Rapporto qualità-prezzo

rating.prefix4rating.postfix

Esperienza Di Costruzione:

Expert LEGO builder

5

5