Product Details
Get 4 super-cool vehicles in 1!
Item

70595
Ages

9-14
Pieces

1093
Features
Shock Master Chen's Chenosaurus, his snake warriors and Master Yang with the ninja's 4- in-1 vehicle, the Ultra Stealth Raider. A reinvented version of the original Super Sonic Raider, this tank features cockpits for ninja Cole, Zane, Jay and Kai, big tracks, twin 6-stud rapid shooters, 2 spring-loaded shooters, and splits into 4 separate vehicles—a helijet, a big bike and 2 tread bikes. The posable Chenosaurus has a snapping jaw and 2 spring-loaded shooters to add to the battle options. Includes 7 minifigures.
Includes 7 minifigures: Cole, Zane, Jay, Kai, Master Chen, Eyezorai and Master Yang.
This set includes the 4-vehicles-in-1 Ultra Stealth Raider and Chenosaurus.
The Ultra Stealth Raider features 2 opening cockpits plus 2 open cockpits, big tracks and wheels, twin 6-stud rapid shooters, 2 spring-loaded shooters, 6 detachable golden ninja swords, 2 golden shurikens, plus a splitting function.
Divide the Raider into a helijet (with foldout wings, 2 golden shurikens, rear prison for a minifigure, and translucent flame elements), a big bike (with both rapid shooters) and 2 tread bikes (each with a spring-loaded shooter).
The Chenosaurus has 2 spring-loaded shooters, a snapping jaw, fully posable joints, a detachable chair and fang detailing.
Weapons include Master Chen's Jade Blade, Master Yang's Aeroblade, an Anacondrai blade, Anacondrai sword, 2 golden sai, 4 golden swords and 2 golden shurikens.
Accessory elements include Master Yang's lantern.
Recreate and role-play epic scenes from the NINJAGO™: Masters of Spinjitzu TV show.
This set offers an age-appropriate building experience for ages 9-14.
Ultra Stealth Raider (full-size) measures over 4" (11cm) high, 14" (38cm) long and 13" (34cm) wide.
Detachable helijet measures over 2" (7cm) high, 9" (24cm) long and 3" (9cm) wide with wings folded in.
Detachable big bike measures over 3" (9cm) high, 12" (33cm) long and 7" (18cm) wide.
Detachable tread bikes each measure over 2" (6cm) high, 7" (20cm) long and 3" (8cm) wide.
The Chenosaurus measures over 6" (17cm) high, 9" (23cm) long and 4" (12cm) wide.
Building Instructions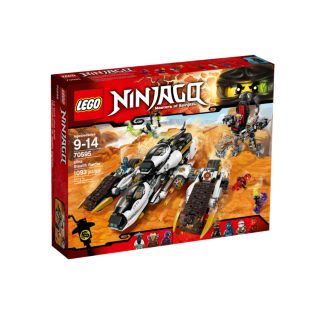 Customer Reviews
Overall Rating
Average rating4.9out of 5 stars
92% would recommend this product.
Rating
Overall Experience
Play Experience
Average rating4.8out of 5 stars
Level of Difficulty
Average rating3out of 5 stars
Value for Money
Average rating4.1out of 5 stars
Please note that by submitting a helpfulness vote on a review your IP address is collected and stored by our trusted third party service provider for the sole purpose of preventing multiple entries from the same IP address. To see how to control your personal data, please see our Privacy policy.
Reviews