Product Details
Build, rip and fly high with Kai!
Item

70739
Ages

6-14
Pieces

46
Features
Includes Kai minifigure with 6 weapon elements
Features a buildable LEGO® brick handle, vortex rotor, minifigure capsule and a rip cord
Weapon elements include Kai's Sword of Fire, Blade of Wildfire, 2 golden shurikens and 2 swords
Kai's torch element is also included
Kai minifigure features his own cool Airjitzu decoration (new for fall 2015)
Build Kai's own personal flyer
Pull the rip cord to send Kai spiraling into the sky!
Master the ancient art of Airjitzu!
Recreate your favorite Airjitzu scenes from the NINJAGO™: Masters of Spinjitzu™ TV show
Collect the entire LEGO® NINJAGO™ Airjitzu Flyer series for thrilling aerial battles!
Measures over 5" (14cm) high, 3" (10cm) long and 3 (10cm) wide
Building Instructions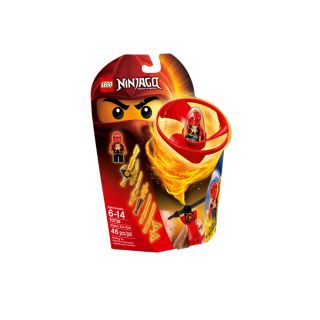 Customer Reviews
Overall Rating
Average rating5out of 5 stars
100% would recommend this product.
Rating
Overall Experience
Play Experience
Average rating5out of 5 stars
Level of Difficulty
Average rating5out of 5 stars
Value for Money
Average rating5out of 5 stars
Please note that by submitting a helpfulness vote on a review your IP address is collected and stored by our trusted third party service provider for the sole purpose of preventing multiple entries from the same IP address. To see how to control your personal data, please see our Privacy policy.
Reviews
Average rating5out of 5 stars

My 4.5 year old had fun all day with this toy

I would recommend this to a friend!

My son is a big NinjaGo fan and this toy has been a great addition to his collection. He built most of it alone then practiced spinning and "getting the bad guys". A very fun toy.

Play Experience

Average rating5out of 5 stars

Value for Money

Average rating5out of 5 stars

Building Experience:

Intermediate LEGO builder

5

5

Average rating5out of 5 stars

I would recommend this to a friend!

My sons entered the Ninjago obsession stage right before their birthday so they were thrilled to receive this. My 5 year old had no trouble assembling it by himself. They spend most of the day competing to see who can make it fly farther away only to take it apart the next morning and start again.

Play Experience

Average rating5out of 5 stars

Value for Money

Average rating5out of 5 stars

Building Experience:

Advanced LEGO builder

5

5

Average rating5out of 5 stars

I would recommend this to a friend!

This is cool . Like you get Airjitzu Kai and he's not in any other set ! You get his Fire Sword ( that is rare.) You get to fly him around your house, its awesome !

Play Experience

Average rating5out of 5 stars

Level of Difficulty

Average rating5out of 5 stars

Value for Money

Average rating5out of 5 stars

Building Experience:

Expert LEGO builder

5

5