NINJAGO®
LEGO®
Golden Dragon Master
Price
17,95 €
14,36 €

Sale price
Available now
Golden Dragon Master

5

5

1

.
rating.prefix5rating.postfix
Begrenzung 20
Begrenzung
Wir begrenzen die pro Haushalt erhältliche Stückzahl aus Gründen der Fairness gegenüber allen unseren Fans. Wurde diese Anzahl bereits durch bisherige Bestellungen erreicht, wird Ihre Bestellung u. U. storniert.
ÄHNLICHE PRODUKTE FINDEN
Produktdetails
Fly to glory with the Golden Master!
Artikel

70644
VIP-Punkte

14

VIP-Punkte

Die angezeigten VIP-Punkte dienen lediglich als Schätzwert. Die tatsächliche Anzahl wird bei der Kassenabwicklung errechnet.
Alter

8-14
Teile

92
Funktionen
Learn the aerial skills of a true Dragon Master with the LEGO® NINJAGO® 70644 Golden Dragon Master flyer, featuring a buildable LEGO brick handle, minifigure capsule, blade element, dragon wings and rip cord. Perform solo tricks, compete against friends, and use your environment to create countless fun ninja challenges. This LEGO NINJAGO toy includes a Golden Master minifigure.
Includes a Golden Master minifigure.
Features a buildable LEGO® brick handle, minifigure capsule, blade element, foil dragon wings, rip cord, and a 2x2 round LEGO tile with Golden Master logo.
Perform The Dragon Strike, The Dragon Flip, The Dragon Nest, The Eye of The Dragon, The Nosediving Dragon and other masterful moves.
Compete against your friends in The Dragon Duel, Dragon Darts, The Flight of the Dragon, The Dragon Switch and The Dragon Hunter.
Use your environment to create your own fantastic flyer challenges.
Go online for even more Dragon Masters tricks and inspiring videos.
Add 70645 Cole - Dragon Master, 70646 Jay - Dragon Master, 70647 Kai - Dragon Master and 70648 Zane - Dragon Master for even more aerial ninja action.
Flyer (without rip cord) measures over 7" (19cm) high, 8" (22cm) wide and 6" (17cm) deep.
Bauanleitungen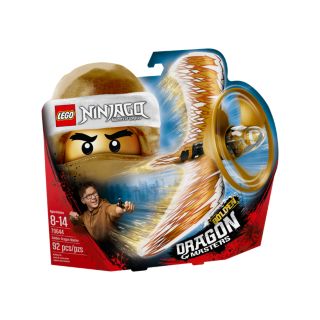 Produkt-Bewertungen
Gesamtbewertung
rating.prefix5rating.postfix
100% der Kunden, die eine Bewertung verfasst haben, würden dieses Produkt empfehlen.
Bewertung
Gesamterfahrung
Spielerfahrung
rating.prefix5rating.postfix
Schwierigkeitsgrad der Herausforderung
rating.prefix2rating.postfix
Preis-Leistungs-Verhältnis
rating.prefix5rating.postfix
Please note that by submitting a helpfulness vote on a review your IP address is collected and stored by our trusted third party service provider for the sole purpose of preventing multiple entries from the same IP address. To see how to control your personal data, please see our Privacy policy.
Reviews
rating.prefix5rating.postfix

I would recommend this to a friend!

An impulse purchase. I bought it for the mystery minifigure but was surprised that it was 15 dollars. Fortunately, it was worth the price. I love ninjago as a theme and as a show and I know who this minifigure is, but I won't spoil it because it was not announced yet. The minifig was amazing, especially that dual-molded gold and white mask. The flyer is fun to play with and it is a great little set.

Play Experience

rating.prefix5rating.postfix

Level of Difficulty

rating.prefix2rating.postfix

Value for Money

rating.prefix5rating.postfix

Building Experience:

Advanced LEGO builder

5

5