Unikitty!™
LEGO®
Unikitty™ Cloud Car
Available now
Unikitty™ Cloud Car

4

5

1

.
rating.prefix4rating.postfix
Omezení 20
Omezení
Aby to vůči všem fanouškům bylo fér, omezili jsme počet objednávek na jednu domácnost. Pokud tohoto limitu již bylo dosaženo předchozími objednávkami, může být vaše objednávka zrušena.
NAJÍT DALŠÍ PODOBNÉ VÝROBKY
Podrobné informace o výrobku
Jump into the Cloud Car with Unikitty™ and spread a little sparkle matter!
Položka

41451
VIP body

14

VIP body

Zobrazený počet VIP bodů je přibližný a bude vypočten přesně při přechodu k pokladně.
Věk

5-12
Kostky

126
Funkce
Relive favorite moments from the happiest, most sparkly and colorful TV series around with the LEGO® Unikitty™! 41451 Cloud Car, featuring a spinning propeller and 2 stud shooters to spread sparkle matter studs wherever you go. There's also a small park scene and Square Bear's house to build, where Unikitty™ can meet her friends Feebee and Square Bear for even more crazy fun! Includes 3 buildable figures.
Includes buildable Unikitty™, Feebee and Square Bear figures.
Features a Cloud Car with 2 stud shooters, a spinning sunshine propeller and space for Unikitty™ to sit inside, plus a small park scene with a fountain and a house for Square Bear.
Accessory elements include sparkle matter studs for shooting, 2 cookies and a plate.
Take off for crazy fun adventures in the Unikitty™ Cloud Car!
Meet up with Feebee and Square Bear for cookies and a fabulous day at the park.
Spin the propeller and shoot sparkle dust studs from the stud shooters!
LEGO® Unikitty™! sets are easy to build and perfect for recreating the magic and sparkle of the TV series at home.
Combine with the 41452 Prince Puppycorn™ Trike to create joyous adventures with Princess Unikitty's little brother.
Cloud Car measures over 2" (6cm) high, 2" (7cm) long and 3" (8cm) wide.
Park scene measures over 2" (6cm) wide and 1" (3cm) deep, and under 1" (3cm) high.
Square Bear's house measures over 1" (4cm) high, 1" (3cm) wide and 1" (3cm) deep.
Návody k sestavení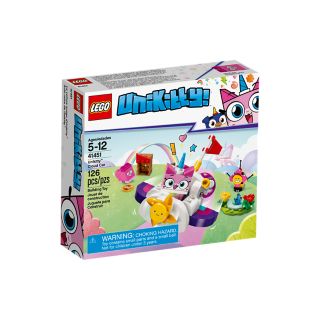 Recenze Produktu
Celkové hodnocení
rating.prefix4rating.postfix
Hodnocení
Celkový dojem
Herní zkušenost
rating.prefix4rating.postfix
Poměr hodnoty k ceně
rating.prefix4rating.postfix
Please note that by submitting a helpfulness vote on a review your IP address is collected and stored by our trusted third party service provider for the sole purpose of preventing multiple entries from the same IP address. To see how to control your personal data, please see our Privacy policy.
Recenzi
rating.prefix4rating.postfix

An alright set. While not the best, it's not half bad. I got it because I kinda like the show, and my friend wanted to see what the set looked like without actually getting it. Unikitty is a good character to get, as she is the main character of the show.. While not exclusive, she is cool. Square bear is cute and has a funny name. In the show she was brown (in the set she is pink) but...

Herní zkušenost

rating.prefix4rating.postfix

Poměr hodnoty k ceně

rating.prefix4rating.postfix

Vytvořte si čas:

10 Minuty

Zkušenosti Se Stavěním:

Intermediate LEGO builder

4

5