BIONICLE®

Terak Creature of Earth
Product Details
Fight the shadow deep in the trenches of Okoto!
Item

71304
Ages

6-12
Pieces

74
Features
Activate the digging claw function to swipe at the shadow trap! Ensure the ancient creature remains free, to await the arrival of the heroic Toa. Unite with 71309 Onua Uniter of Earth for more earthly powers!
Terak Creature of Earth features posable claws, elemental crystal armor, unity piece to attach Toa and a mask.
Also includes a shadow trap.
Sturdy design for intense action play!
Stands over 4" (12cm) tall.
Combine with 71309 Onua Uniter of Earth in one click, using the unity piece.
Creatures also unite with other Toa to conjure up new mystical powers!
Building Instructions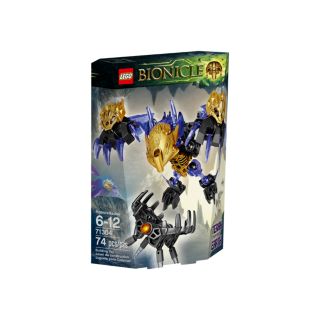 Customer Reviews
Overall Rating
Average rating4out of 5 stars
100% would recommend this product.
Rating
Overall Experience
Play Experience
Average rating4out of 5 stars
Level of Difficulty
Average rating1out of 5 stars
Value for Money
Average rating5out of 5 stars
Please note that by submitting a helpfulness vote on a review your IP address is collected and stored by our trusted third party service provider for the sole purpose of preventing multiple entries from the same IP address. To see how to control your personal data, please see our Privacy policy.
Reviews
Average rating4out of 5 stars

A good figure overall but has a recycled quality

I would recommend this to a friend!

Terak is a good set overall, In terms of price you're getting a pretty good deal for parts alone. The figure itself is an ok build with some really nice translucent purples that I really like, combine this with the gold head piece and it's a pretty nice figure with some decent playability. However unlike the other Creatures I can't help but feel Terak is not very distinguishable from Melum, these two just seem too similar to one another. I get it makes sense for Melum to have big claws for climbing icy walls and traction and it also makes sense for Terak to have something similar for digging deep underground. But honestly I kind of can't help but look at Terak and notice it's basically Melum with a color scheme change and a few touchups. It would've been really neat to have seen something like drill hands or just anything to further distinguish the Terak. To be clear I don't think Terak is BAD figure (in fact I think the contrary) I just personally find him the least unique design among the Creatures overall and I think he could've been done differently to feel a little more unique as a set. Terak get's a 4/5 for me, It's a good figure and I enjoy this set but the fact that he feels a bit recycled is a minus for me.

Play Experience

Average rating4out of 5 stars

Level of Difficulty

Average rating1out of 5 stars

Value for Money

Average rating5out of 5 stars

Building Experience:

Intermediate LEGO builder

4

5