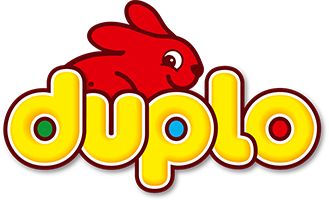 DUPLO®
LEGO®
LEGO® DUPLO® All-in-One-Box-of-Fun
Available now
LEGO® DUPLO® All-in-One-Box-of-Fun

4.9435

5

478

.
rating.prefix4.9rating.postfix
Limit 20
Limit
We restrict the purchase limit available to a single household to ensure fairness for all of our fans. If you've already reached this limit through previous orders, your order may be cancelled.
FIND MORE PRODUCTS LIKE THIS
Product Details
Learn to discover, build and count with the All-In-One Box of Fun!
Item

10572
VIP Points

25

VIP Points

The VIP Points value shown is an estimate and actual points will be calculated when you check out.
Ages

1½-5
Pieces

65
Features
The LEGO® DUPLO® All-In-One Box of Fun set has a whole load of DUPLO bricks for fun building and rebuilding for creative play. At its heart is a buildable wagon base with rounded edges and wheels that really turn. This comprehensive set also includes 2 opening window elements, a cute dog and numbered bricks with corresponding decorated bricks to help your child develop their counting skills. There are even extra classic DUPLO bricks for more creative fun. Includes a boy DUPLO figure.
Includes a boy LEGO® DUPLO® figure
Features a wagon base, 2 window elements, a dog, numbered bricks and a wide selection of other DUPLO bricks
Match the numbered bricks with the corresponding decorated bricks
Store the bricks in the iconic LEGO brick-shaped storage box
LEGO® DUPLO® products are fun and safe for younger hands
House measures over 5" (14cm) high, 4" (12cm) wide and 3" (8cm) deep
Wagon measures over 1" (5cm) high, 3" (9cm) long and 2" (6cm) wide
Dog stands over 1" (4cm) tall
Boy stands over 1" (5cm) tall
Building Instructions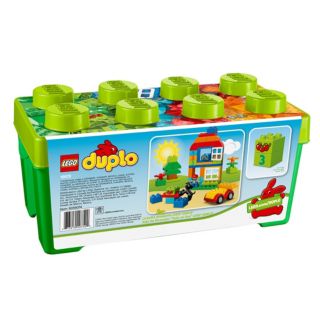 Customer Reviews
Overall Rating
rating.prefix4.9rating.postfix
1% would recommend this product.
Rating
Overall Experience
Play Experience
rating.prefix4.9rating.postfix
Level of Difficulty
rating.prefix1.6rating.postfix
Value for Money
rating.prefix4rating.postfix
Please note that by submitting a helpfulness vote on a review your IP address is collected and stored by our trusted third party service provider for the sole purpose of preventing multiple entries from the same IP address. To see how to control your personal data, please see our Privacy policy.
Reviews
rating.prefix5rating.postfix

Lego Duplo was kind enough to supply us with the Lego Duplo All-In-One-Box-of-Fun for an enjoyable Duplo Lego kids party! The Lego Duplo All-In-One-Box-of-Fun supplied our party with HOURS of fun!! With 65 pieces of endless possibilities, the children were able to use their imagination creating many different scenes! The adorable dog and person were a huge hit! They loved using them to travel through their creations. The children used their bricks to create buildings, trees, a train, a car, and SO MUCH more!! The parents all especially loved the 1,2, and 3 numbered bricks that little ones were able to match up with corresponding bricks with a matching picture showing that many of an object. There is one radio to match to the number 1, two mice to match to the number 2, and three apples to match tothe number 3. This sparked so much creativity during our play. The kids built a taxi car that had to drive around and pick up the matching picture that belonged to the number, and another child built a number train. We also had fun seeing how high we could build the bricks before it would topple over. We also had a mom and son work on building patterns with the different colored bricks! This set is not only fun, but proved to be educational too!! Thank you Lego Duplo for the chance to review your product! The parents at our party can't wait to add Duplo Lego to their homes too!!

5

5

rating.prefix5rating.postfix

I would recommend this to a friend!

Perfect for little ones just getting started. Mostly simple blocks which are great for learning the basics of putting them together and pulling them apart. The plastic box they come in is fun too. I'm guessing the box is why this set seems slightly overpriced. I didn't realize until buying another Duplo set later​ that the person that comes with this set is actually a child. It's not a bad thing, just good to know.

Play Experience

rating.prefix5rating.postfix

Level of Difficulty

rating.prefix1rating.postfix

Value for Money

rating.prefix4rating.postfix

5

5

rating.prefix5rating.postfix

Our outside LEGO DUPLO PARTY

We had our #LEGODUPLOParty outside since it was a beautiful day! I love the versatility LEGO DUPLO bricks offer. We can play both inside and outside without worry because the bricks are made very well and are easy to wipe clean if played outside. As a parent, what I really liked was the LEGO DUPLO bricks came with a page of different picture creations. This gave the kids new ideas on what they can build with their new LEGO DUPLO bricks. What I also liked about these pictures were they were shown in a way where the kids did not feel they HAD to build those ideas. They still could use their imagination and build whatever their hearts desired. My kids loved the bright colors and easy assembly that the LEGO DUPLO bricks offer. Some favorites from the box were the dog and the car. The storage box provided is very handy to store the LEGO DUPLO bricks, and is easy to open for even the littlest hands. My youngest feels independent since she can open and close the box on her own, and is now able to play whenever she wants. My kids ages range from 2 to 9 years old, so finding something they all enjoy together has always been a struggle. But, I am so thankful for LEGO DUPLO because they ALL enjoy building and playing together for hours. We cannot say enough good things about LEGO DUPLO bricks! #sponsored

5

5

rating.prefix5rating.postfix

LEGO DUPLO All-In-One-Box-of-Fun Play

After the kids played with their LEGO DUPLO My First Dinosaur for a while, we moved on to the LEGO DUPLO All-In-One-Box-of-Fun. They gathered around as my 4 year old son opened it. The little ones were most interested to see what was inside and swish around the bricks once they were opened. They loved taking them out of the box and putting them back in. Many 1 years old even expressed great interest to sit inside it. My 4 year old son loved building the suggested rocket that was in the little booklet that came inside the box. After that, he enjoyed flying it around and crashing it. He then re-built it to be another bigger rocket. Some of the older boys combined those bricks with their dinosaur bricks to build whatever they wanted. I, personally loved the little LEGO boy that came with the box. He's very cute and its fun to watch my son put him in the car and the rocket. It's nice to see some counting and colors being represented in this toy. During the party, I did not get to have one on one time with my 1 year old and these bricks so I look forward to doing that shortly. We are very happy we were given this free LEGO DUPLO set. It's a great addition to all our other LEGO DUPLO sets. #LEGODUPLOParty #Sponsored

5

5