Slide 1

(Current slide)

Slide 2

Slide 3

Slide 4

Slide 5

Slide 6

Slide 7
Item 1 of 7
Slide 1

(Current slide)

Slide 2

Slide 3

Slide 4

Slide 5

Slide 6

Slide 7
Item 1 of 7

Slide 1

(Current slide)

Slide 2

Slide 3

Slide 4

Slide 5

Slide 6
Item 1 of 7
Slide 1

(Current slide)

Slide 2

Slide 3

Slide 4

Slide 5

Slide 6
Item 1 of 7

Forest Machine
rating.prefix80rating.postfix
68 Reviews*
Limit 5*
Limit
We restrict the limit a household can buy in order to be fair to all of our fans. If you've already reached that limit through previous orders your order may be cancelled.
FIND MORE PRODUCTS LIKE THIS
Product Details
Clear the ground with the Forest Machine!
Item

42080
VIP Points

239

VIP Points

The VIP Points value shown is an estimate and actual points will be calculated when you check out.
Ages

10-16
Pieces

1003
Features
Enjoy a rewarding build and play experience with the LEGO® Technic™ 42080 Forest Machine. This detailed replica of a real-life forest harvester comes with lots of realistic features, including working suspension, articulated steering and a multidirectional harvester head with a spinnable cutter blade. Activate the included LEGO Power Functions motor and engage the advanced pneumatic system to operate the motorized boom and grabber. You can also rotate the driver's cab to move the boom through more than 180°. This 2-in-1 advanced building set comes with 2 buildable tree trunks and rebuilds into a rugged Log Loader.
Features a LEGO® Power Functions motor and an advanced pneumatic system for a motorized boom and grabber.
Also features articulated steering, working suspension, multidirectional harvester head with a spinnable cutter blade, and a large rotating driver's cab.
Open the trailer to access the LEGO® Power Functions large motor.
Engage the advanced pneumatic system and operate the boom and grabber to lift the tree trunks, then rotate the driver's cab to move the load through more than 180°.
Comes with a green, white, black, gray, red and yellow color scheme.
This LEGO® Technic™ set is designed to provide an immersive and rewarding building experience.
2-in-1 model: rebuilds into a Log Loader.
Forest Machine with boom retracted measures over 7" (18cm) high, 13" (35cm) long and 5" (13cm) wide.
Log Loader measures over 6" (17cm) high, 13" (35cm) long and 5" (13cm) wide.
Building Instructions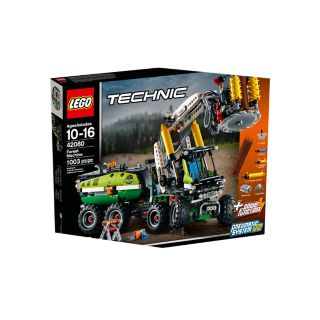 Customer Reviews
Overall Rating
rating.prefix4rating.postfix
80% would recommend this product.
Rating
Overall Experience
Play Experience
rating.prefix4.3rating.postfix
Level of Difficulty
rating.prefix3.6rating.postfix
Value for Money
rating.prefix3.4rating.postfix
Reviews
Build five amazing lions and get ready to form the New Exclusive Voltron!
This set features buildable, highly posable black, blue, yellow, red and green lions with specially designed, extra-strong joints to combine them all and create the Voltron super robot, plus a huge sword and shield that attach firmly to Voltron's hands.
Legend of the Fan Designer!
Leandro "Lendy" Tayag comes from the Philippines and lives in Malaysia. He's a software engineer with a passion for both giant robots and LEGO® building – so he was the perfect fan designer to create the LEGO Ideas Voltron set!
"I've always been a big fan of Super Robots from the '70s and '80s. My parents bought a Voltron toy for me when I was a child, and I have been hooked on it ever since. I actually started the initial design two years ago, but couldn't get the head design right, so I put it aside. If I remember correctly, I worked on it for roughly two hours every night after work, over the course of around three weeks."