Minecraft™
LEGO®
The Nether Railway
Available now
The Nether Railway

4.6667

5

6

.
rating.prefix4.7rating.postfix
Begrenzung 20
Begrenzung
Wir begrenzen die pro Haushalt erhältliche Stückzahl aus Gründen der Fairness gegenüber allen unseren Fans. Wurde diese Anzahl bereits durch bisherige Bestellungen erreicht, wird Ihre Bestellung u. U. storniert.
ÄHNLICHE PRODUKTE FINDEN
Produktdetails
Ride The Nether Railway!
Artikel

21130
VIP-Punkte

39

VIP-Punkte

Die angezeigten VIP-Punkte dienen lediglich als Schätzwert. Die tatsächliche Anzahl wird bei der Kassenabwicklung errechnet.
Alter

8+
Teile

387
Funktionen
Build an awesome rail system and journey through the Nether. Avoid the soul sand, hopping magma cubes and the zombie pigman as you search for precious nether quartz ore. Enjoy hands-on Minecraft™ adventures featuring your favorite characters and objects with this easy-to-reconfigure, modular LEGO® Minecraft set—designed for young fans of the highly successful sandbox video game. Includes a Steve minifigure.
Includes a Steve minifigure, plus a zombie pigman, big magma cube and a small magma cube.
The Nether Railway features a minecart and a curved rail track with hopping magma cube function.
Don your diamond armor, grab your diamond pickaxe and jump aboard the minecart to ride The Nether Railway!
Race over the track to activate the hopping magma cube function.
Accessory elements include a pickaxe, redstone torch and nether quartz ore.
Also includes a sword.
Easy-to-reconfigure modular design with three alternative model configurations.
Set your imagination free—rebuild the set for more LEGO® Minecraft™ creations!
This set includes over 380 pieces and offers an age-appropriate build and play experience for ages 8+.
Measures over 1" (4cm) high, 11" (28cm) wide and 9" (24cm) deep.
Bauanleitungen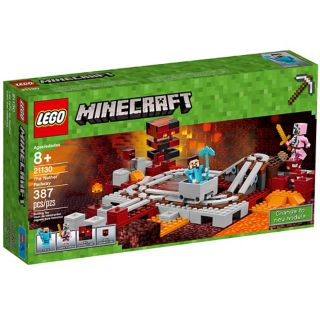 Produkt-Bewertungen
Gesamtbewertung
rating.prefix4.7rating.postfix
100% der Kunden, die eine Bewertung verfasst haben, würden dieses Produkt empfehlen.
Bewertung
Gesamterfahrung
Spielerfahrung
rating.prefix4.2rating.postfix
Schwierigkeitsgrad der Herausforderung
rating.prefix1.8rating.postfix
Preis-Leistungs-Verhältnis
rating.prefix4.2rating.postfix
Please note that by submitting a helpfulness vote on a review your IP address is collected and stored by our trusted third party service provider for the sole purpose of preventing multiple entries from the same IP address. To see how to control your personal data, please see our Privacy policy.
Bewertungen