Minifigures
LEGO®
LEGO® Iconic Cave Set
Available now
LEGO® Iconic Cave Set

5

5

3

.
rating.prefix5rating.postfix
Limit 2
Limit
We restrict the purchase limit available to a single household to ensure fairness for all of our fans. If you've already reached this limit through previous orders, your order may be cancelled.
FIND MORE PRODUCTS LIKE THIS
Product Details
Item

5004936
VIP Points

4

VIP Points

The VIP Points value shown is an estimate and actual points will be calculated when you check out.
Ages

6+
Features
Enjoy some prehistoric LEGO® fun with these cool caveman and cavewoman minifigures with clubs and a cardboard cave house that doubles as a handy storage box.
Building Instructions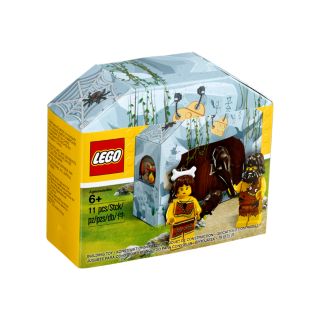 Customer Reviews
Overall Rating
rating.prefix5rating.postfix
100% would recommend this product.
Rating
Overall Experience
Play Experience
rating.prefix4rating.postfix
Level of Difficulty
rating.prefix1rating.postfix
Value for Money
rating.prefix5rating.postfix
Please note that by submitting a helpfulness vote on a review your IP address is collected and stored by our trusted third party service provider for the sole purpose of preventing multiple entries from the same IP address. To see how to control your personal data, please see our Privacy policy.
Reviews
rating.prefix5rating.postfix

I would recommend this to a friend!

This set is pure awesome! getting two great exclusive minifigures with a cool box for free that's great. I am very happy I ended up getting this p. I use the box as the cavemens home! The minifigures have great printing in general. There is no arm printing but there is printing on the side of the legs which is great for free minifigures! The minifigures are of great quality I do not know if they use a different plastic but it feels like it maybe that's just me. The hair is great for the two minifigures. The only thing I do not prefer is the face printing for the female cave women I wish it was a little bit more happy but overall the minifigures are amazing. They are great additions to my collection.

Play Experience

rating.prefix5rating.postfix

Level of Difficulty

rating.prefix1rating.postfix

Value for Money

rating.prefix5rating.postfix

Building Experience:

Expert LEGO builder

5

5

rating.prefix5rating.postfix

Iconic Cave Set is Truly Iconic!

I would recommend this to a friend!

I really like this set overall. Yes,it's only two minifigures, but they're iconic as the set tells. Both of them are extremely detailed, and have unique features, such as the woman's hair is made of a soft rubber, which I wasn't expecting. The man has a neat beard, as well as a humorous face. Both come with clubs, which are also cool. Lastly, the box is another favorite printed LEGO box I've seen, I love all the cool details and funny things going on in the background, it reminds me of the Flintstones. Highly recommend!

Building Experience:

Advanced LEGO builder

5

5

rating.prefix5rating.postfix

You can't go wrong with two awesome minifigures.

I would recommend this to a friend!

I got this two to go with the original two cave man and women minifigures and I think it's worth the money and the design is awesome. You can't go wrong with minifigures.

Play Experience

rating.prefix3rating.postfix

Level of Difficulty

rating.prefix1rating.postfix

Value for Money

rating.prefix5rating.postfix

Building Experience:

Expert LEGO builder

5

5