Minecraft™
LEGO®
The Wither
Retired Product
The Wither

5

5

3

.
rating.prefix5rating.postfix
FIND MORE PRODUCTS LIKE THIS
Product Details
Prepare to battle the wither!
Features
Build the TNT cannon and wage battle against the fearsome wither and wither skeletons that protect the nether fortress! Enjoy hands-on Minecraft™ adventures featuring your favorite characters and objects with this LEGO® Minecraft set—designed for young fans of the highly successful sandbox video game. Includes a Steve minifigure, plus a wither and 2 wither skeletons.
LEGO Minecraft toys are compatible with all LEGO construction sets for creative building
Measures over 3" high, 7" wide and 5" deep
318 pieces – For boys and girls ages 8 and older
Building Instructions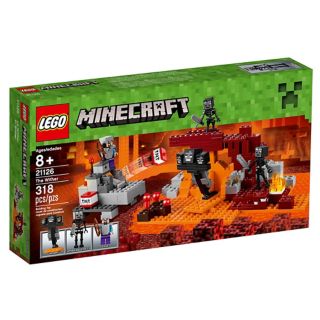 Customer Reviews
Overall Rating
rating.prefix5rating.postfix
100% would recommend this product.
Rating
Overall Experience
Play Experience
rating.prefix4.5rating.postfix
Level of Difficulty
rating.prefix3.3rating.postfix
Value for Money
rating.prefix4.5rating.postfix
Please note that by submitting a helpfulness vote on a review your IP address is collected and stored by our trusted third party service provider for the sole purpose of preventing multiple entries from the same IP address. To see how to control your personal data, please see our Privacy policy.
Reviews
rating.prefix5rating.postfix

I would recommend this to a friend!

When I saw this set, I was like "The Wither?!" And the set is awesome! The price per piece is good, as it has over 300 pieces and is only $20.00. Steve looks good, and has iron armor on. It's pretty easy to build, so this is good for people have just started building Lego Minecraft. Pros: -Wither looks good -Wither Skeletons -TNT -Launching cannon -Falling fortress -Nether Wart -Wither has moving heads -Lots of lava -Connects well with Nether Fortress set Cons: -Fortress keeps falling over -Wither has to go around with lava to stand up All in all, this is a great set for fans of Lego, Minecraft, and Lego Minecraft!

Play Experience

rating.prefix4rating.postfix

Level of Difficulty

rating.prefix2rating.postfix

Value for Money

rating.prefix4rating.postfix

Building Experience:

Advanced LEGO builder

5

5

rating.prefix5rating.postfix

I would recommend this to a friend!

This small set is very nice but it needs a wither totem or else the wither wouldn't be there, then the set would be called ''the''. The rest of the set is nice like the TNT cannon and the collapsing nether fortress (which goes very well with the nether fortress set).

Level of Difficulty

rating.prefix4rating.postfix

Building Experience:

Novice LEGO builder

5

5

rating.prefix5rating.postfix

I would recommend this to a friend!

Great addition to kids Minecraft Lego collection. Love it.

Play Experience

rating.prefix5rating.postfix

Level of Difficulty

rating.prefix4rating.postfix

Value for Money

rating.prefix5rating.postfix

Building Experience:

Intermediate LEGO builder

5

5