Produktdetails
Learn about colors and fruits with this easy-to-build set!
Artikel

10615
Alter

1½-5
Teile

12
Funktionen
Play and learn with LEGO® DUPLO® My First Tractor! Put the chunky pieces together to build the tractor, then stack and unload the colorful fruits in the basket. Teach your child about colors and fruits with the special decorated bricks. Start your stories with this easy-to-build set including large DUPLO bricks that are designed especially to be safe and suitable for little hands. Includes 2 child DUPLO figures.
Includes 2 child LEGO® DUPLO® figures
Features a buildable tractor and basket
Includes 6 brightly colored decorated bricks featuring different fruits
Toddlers will love the easy-to-build tractor with rolling wheels
Play with your toddler while introducing colors and fruits
Create fun role play scenarios with the DUPLO figures
DUPLO products are specially designed to be safe and suitable for small hands
Tractor measures over 4" (11cm) high, 9" (23cm) long and 2" (7cm) wide
Combine with 10617 DUPLO My First Farm to extend developmental learning and play opportunities
Bauanleitungen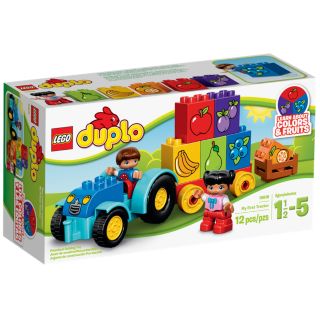 Produkt-Bewertungen
Gesamtbewertung
rating.prefix5rating.postfix
100% der Kunden, die eine Bewertung verfasst haben, würden dieses Produkt empfehlen.
Bewertung
Gesamterfahrung
Spielerfahrung
rating.prefix5rating.postfix
Schwierigkeitsgrad der Herausforderung
rating.prefix1.3rating.postfix
Preis-Leistungs-Verhältnis
rating.prefix4.7rating.postfix
Please note that by submitting a helpfulness vote on a review your IP address is collected and stored by our trusted third party service provider for the sole purpose of preventing multiple entries from the same IP address. To see how to control your personal data, please see our Privacy policy.
Bewertungen
rating.prefix5rating.postfix

Würde ich einem Freund empfehlen!

My toddler loved this toy. We went to the lego store and she knew she wanted this tractor. She plays with it all the time. She brought it to school and all her toddler buddies wanted to play with it as well.

Spielerfahrung

rating.prefix5rating.postfix

Schwierigkeitsgrad der Herausforderung

rating.prefix2rating.postfix

Preis-Leistungs-Verhältnis

rating.prefix4rating.postfix

Bauerfahrung:

Intermediate LEGO builder

5

5

rating.prefix5rating.postfix

Würde ich einem Freund empfehlen!

This was my son's first Lego set. He was a little over a year old and completely awestruck with the toy. Since then it is one of the first toys he asks for right after waking up in the morning. The set is really simple, which obviously is a plus when it comes to starting one's adventure with Lego at this age. The fruity bricks serve as an excellent educational tool - both for learning fruit names and colors. The tractor is a neat, solid piece of plastic - strudy, durable and pretty. Inclusion of two figures - a boy and a girl - allow for roleplaying possibilities. To sum it up: the set is truly amazing and a testament to Lego's toy expertise.

Spielerfahrung

rating.prefix5rating.postfix

Schwierigkeitsgrad der Herausforderung

rating.prefix1rating.postfix

Preis-Leistungs-Verhältnis

rating.prefix5rating.postfix

Bauerfahrung:

Advanced LEGO builder

5

5

rating.prefix5rating.postfix

Würde ich einem Freund empfehlen!

My 18 month old daughter loves this toy. She loves to say the name of the fruits and is learning to say the colors. She adores the cute little characters and pushing the tractor all over the house. Also great introduction to building.

Spielerfahrung

rating.prefix5rating.postfix

Schwierigkeitsgrad der Herausforderung

rating.prefix1rating.postfix

Preis-Leistungs-Verhältnis

rating.prefix5rating.postfix

Bauerfahrung:

Novice LEGO builder

5

5