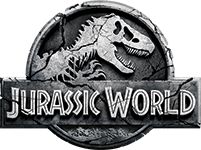 Jurassic World™
LEGO®
Pteranodon Escape
Available now
Pteranodon Escape

4

5

1

.
rating.prefix4rating.postfix
Limite 20
Limite
Nous appliquons des restrictions par foyer pour être juste envers tous nos fans. Si vous avez déjà atteint cette limite lors de commandes précédentes, il est possible que nous annulions votre commande.
TROUVER PLUS D'ARTICLES COMME CELUI-CI
Présentation du produit
Escape Jurassic Island before the Pteranadon attacks!
Numéro d'article

10756
Points VIP

19

Points VIP

Le nombre de points VIP indiqué ne constitue qu'une estimation. Les points réels seront calculés au moment du paiement.
Âges

4-7
Nombre de pièces

84
Fonctionnalités
Introduce your child to the excitement of exploring in a LEGO® Juniors/4+ adventure with this 10756 Pteranodon Escape starter set, featuring an Easy to Build helicopter model with a Starter Brick chassis and spinning rotor, small volcano with buildable lava balls and a buildable Pteranodon with movable wings and beak. This cool dinosaur toy also includes a simple guide to build and play to help build confidence in children. Includes 2 minifigures and a Pteranodon figure.
Includes 2 minifigures: a tracker and a pilot.
Features a helicopter with spinning rotor, string and a Quick Start chassis.
Also includes a small outpost, small volcano with lava and 2 buildable lava balls, plus a buildable Pteranodon figure with movable wings and opening beak.
Lower the line from the helicopter to rescue the tracker from the lava balls.
Swoop down with the Pteranodon and chase the helicopter.
Accessory elements include a tranquilizer gun and a walkie-talkie.
Includes Easy to Build models with Starter Brick bases, plus a simple guide to get children building and playing quickly.
LEGO® Juniors/4+ sets are fully compatible with all other LEGO sets.
Helicopter measures over 3" (8cm) high, 5" (13cm) long and 3" (10cm) wide.
Pteranodon with wings extended measures over 1" (3cm) high, 3" (10cm) long and 7" (20cm) wide.
Instructions de montage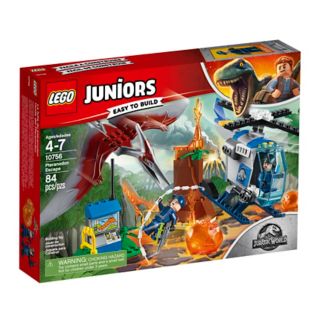 Avis Du Produit
Note globale
rating.prefix4rating.postfix
100% des clients recommanderaient ce produit.
Notation
Expérience globale
Expérience de jeu
rating.prefix4rating.postfix
Niveau de défi
rating.prefix1rating.postfix
Rapport qualité-prix
rating.prefix4rating.postfix
Please note that by submitting a helpfulness vote on a review your IP address is collected and stored by our trusted third party service provider for the sole purpose of preventing multiple entries from the same IP address. To see how to control your personal data, please see our Privacy policy.
Commentaires
rating.prefix4rating.postfix

Je recommanderais ce produit à un ami

This is a good but not great set. The highlight of this set is the Pteranodon! It is the same one from the 2015 JW line, so if you missed out on that set, you can get it here! The minifigs are both generic Jurassic World workers. They are nice to get, but it would have been nice to get a named character for one of them. The builds are small but pretty effective. The helicopter is comically scaled, but for a juniors set that is aimed for young kids, it does it's job. The 2 small terrain builds are also very small, but they look good and they add enough to help set up different play scenarios. The printed pieces are great, and the lava rocks are a nice touch. All in all, this isn't a bad set, but it isn't overly interesting relative to the other Jurassic World sets.

Expérience de jeu

rating.prefix4rating.postfix

Niveau de défi

rating.prefix1rating.postfix

Rapport qualité-prix

rating.prefix4rating.postfix

Temps de construction:

15 minutes

Expérience De Construction:

Advanced LEGO builder

As-tu trouvé ce commentaire utile ?

4

5