Technic™
LEGO®
Schwerlast-Gabelstapler
Nachbestellungen möglich. Versand zum 26. Dezember 2018
Schwerlast-Gabelstapler

4

5

2

.
rating.prefix4rating.postfix
Limit 5
Limit
We restrict the limit a household can buy in order to be fair to all of our fans. If you've already reached that limit through previous orders your order may be cancelled.
FIND MORE PRODUCTS LIKE THIS
Product Details
Erlebe die Power und Vielseitigkeit eines Schwerlast-Gabelstaplers!
Item

42079
VIP Points

49

VIP Points

The VIP Points value shown is an estimate and actual points will be calculated when you check out.
Ages

9-16
Pieces

592
Features
Der Schwerlast-Gabelstapler (42079) bietet dir ein völlig neues LEGO® Technic Erlebnis, denn er verfügt über eine detailreiche Fahrerkabine, eine orange Warnleuchte, große Reifen und eine Gabel, die große Höhen erreicht. Schieb das Fahrzeug, damit sich die Kolben des Motors bewegen, hebe und neige die Gabel, betätige die Hinterradlenkung und befördere die Palette ans Ziel. Dieses LEGO Technic 2-in-1 Set enthält außerdem einen Transportbehälter mit Gefahrgutkennzeichnung und Aufkleber, um weitere Details darzustellen. Das Fahrzeug ist in den Farben Blau und Gelb lackiert. Lässt sich in einen leistungsstarken Abschleppwagen umbauen.
Der Gabelstapler verfügt über eine Hinterradlenkung, einen 2-Zylinder-Motor mit beweglichen Kolben, eine weit hochfahrbare Gabel, die sich auch kippen lässt, eine detailreiche Fahrerkabine, eine orange Warnleuchte und große Reifen.
Ebenfalls enthalten sind eine baubare Palette und ein Transportbehälter mit Gefahrgutkennzeichnung.
Fahre mit dem Gabelstapler, um die sichtbaren Kolben des 2-Zylinder-Motors zu bewegen.
Die Gabel lässt sich hochfahren und kippen. Betätige die Hinterradlenkung, um die aufgenommene Palette an den richtigen Platz zu bringen.
Fahr die Gabel hoch, um die beladene Palette ganz oben abzuladen.
Der Gabelstapler ist in den Farben Gelb und Blau lackiert, und mit den beiliegenden Aufklebern lassen sich weitere Details darstellen.
Dieses LEGO® Technic Set für geübte Baumeister vermittelt ein fesselndes und lohnendes Bauerlebnis.
LEGO® Technic 2-in-1-Set: Lässt sich in einen Abschleppwagen umbauen.
Der Schwerlast-Gabelstapler ist 18 cm hoch, 33 cm lang und 12 cm breit.
Der Abschleppwagen ist 13 cm hoch, 32 cm lang und 12 cm breit.
Building Instructions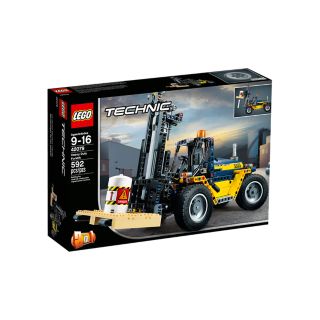 Customer Reviews
Overall Rating
rating.prefix4rating.postfix
100% would recommend this product.
Rating
Overall Experience
Play Experience
rating.prefix3rating.postfix
Level of Difficulty
rating.prefix1.5rating.postfix
Value for Money
rating.prefix4rating.postfix
Please note that by submitting a helpfulness vote on a review your IP address is collected and stored by our trusted third party service provider for the sole purpose of preventing multiple entries from the same IP address. To see how to control your personal data, please see our Privacy policy.
Reviews
rating.prefix3rating.postfix

Es hätte das perfekte 50€-Set sein können...

I would recommend this to a friend!

Vorweg: Dies ist meiner Ansicht nach das mit Abstand schönste Lego-Modell 2018 und ich wünschte ich könnte diesem so schönen Modell doch nur 5 Sterne geben. Doch nein, leider sind wirklich fast alle Funktionen im Detail nicht gut umgesetzt. + vom Aussehen her wunderschönes Modell, was einem...

Play Experience

rating.prefix2rating.postfix

Level of Difficulty

rating.prefix1rating.postfix

Value for Money

rating.prefix3rating.postfix

3

5

rating.prefix5rating.postfix

Tolles Modell mit Abstrichen in den Funktionen

I would recommend this to a friend!

Dies ist eines meiner ersten LEGO Technic Modelle und es ist meines Erachtens auch eines der schönsten in dieser Preisklasse. Toll verarbeitet und ein sehr schönes Design, macht diesen Stapler zu einem echten Highlight. Abstriche gibt es lediglich in der Hebe-Funktion, da hätte ich mir schon gewünscht, dass die Gabel höher herausfahrbar ist. Sonst TOP. Ich kann das Modell weiterempfehlen und freue mich schon das B-Modell ein Abschlepp-Fahrzeug aufzubauen.

Play Experience

rating.prefix4rating.postfix

Level of Difficulty

rating.prefix2rating.postfix

Value for Money

rating.prefix5rating.postfix

Building Experience:

Fortgeschrittener Anfänger

5

5