Produktoplysninger
Gå på opdagelse, byg ting, og lær at tælle med den sjove LEGO® DUPLO® Alt i èn-boks!
Vare

10572
VIP-point

250
Alder

1½-5
Dele

65
Funktioner
Den sjove LEGO® DUPLO® Alt i èn-boks er fyldt med DUPLO klodser til mange timers lærerig og kreativ leg. Sættet er bygget op omkring en vognbund med runde hjørner og hjul, der drejer rundt. Dette store sæt indeholder også to vindueselementer, der kan åbnes, en sød hund og klodser med tal og motiver, der hører sammen, så dit barn rigtig kan øve sig på at tælle. Der er også en masse klassiske DUPLO klodser i boksen. Sættet indeholder en DUPLO drengefigur.
LEGO® DUPLO® drengefigur.
Vognbund, to vindueselementer, hund, nummererede klodser og mange andre DUPLO klodser.
Sæt de nummererede klodser sammen med klodserne med motiver, der matcher.
Opbevar klodserne i den ikoniske boks formet som en LEGO klods
LEGO DUPLO produkter er sjove og sikre for små hænder.
Huset er over 14 cm højt, 12 cm bredt og 8 cm dybt.
Vognbunden er over 5 cm høj, 9 cm lang og 6 cm bred.
Hunden er over 4 cm høj.
Drengen er over 5 cm høj.
Byggevejledninger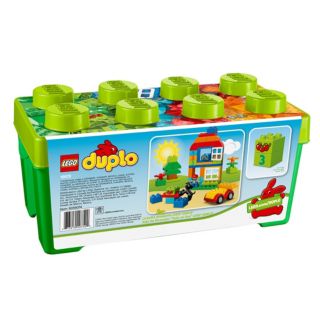 Produktanmeldelser
Samlet bedømmelse
Average rating4.9out of 5 stars
1% af anmelderne vil anbefale dette produkt.
Bedømmelse
Samlet erfaring
Vær opmærksom på, at hvis du stemmer på, hvor nyttig en anmeldelse er, indsamles og gemmes din IP-adresse af en betroet tredjepartsleverandør. Dette sker udelukkende med det formål at forhindre, at der stemmes flere gange fra den samme IP-adresse. Du kan læse mere om, hvordan du kontrollerer dine persondata, i vores Politik om beskyttelse af personlige oplysninger.
Anmeldelser
Average rating5out of 5 stars

Lego Duplo was kind enough to supply us with the Lego Duplo All-In-One-Box-of-Fun for an enjoyable Duplo Lego kids party! The Lego Duplo All-In-One-Box-of-Fun supplied our party with HOURS of fun!! With 65 pieces of endless possibilities, the children were able to use their imagination creating many different scenes! The adorable dog and person were a huge hit! They loved using them to travel through their creations. The children used their bricks to create buildings, trees, a train, a car, and SO MUCH more!! The parents all especially loved the 1,2, and 3 numbered bricks that little ones were able to match up with corresponding bricks with a matching picture showing that many of an object. There is one radio to match to the number 1, two mice to match to the number 2, and three apples to match tothe number 3. This sparked so much creativity during our play. The kids built a taxi car that had to drive around and pick up the matching picture that belonged to the number, and another child built a number train. We also had fun seeing how high we could build the bricks before it would topple over. We also had a mom and son work on building patterns with the different colored bricks! This set is not only fun, but proved to be educational too!! Thank you Lego Duplo for the chance to review your product! The parents at our party can't wait to add Duplo Lego to their homes too!! [This review was collected as part of a promotion.]

5

5

Average rating5out of 5 stars

Our outside LEGO DUPLO PARTY

We had our #LEGODUPLOParty outside since it was a beautiful day! I love the versatility LEGO DUPLO bricks offer. We can play both inside and outside without worry because the bricks are made very well and are easy to wipe clean if played outside. As a parent, what I really liked was the LEGO DUPLO bricks came with a page of different picture creations. This gave the kids new ideas on what they can build with their new LEGO DUPLO bricks. What I also liked about these pictures were they were shown in a way where the kids did not feel they HAD to build those ideas. They still could use their imagination and build whatever their hearts desired. My kids loved the bright colors and easy assembly that the LEGO DUPLO bricks offer. Some favorites from the box were the dog and the car. The storage box provided is very handy to store the LEGO DUPLO bricks, and is easy to open for even the littlest hands. My youngest feels independent since she can open and close the box on her own, and is now able to play whenever she wants. My kids ages range from 2 to 9 years old, so finding something they all enjoy together has always been a struggle. But, I am so thankful for LEGO DUPLO because they ALL enjoy building and playing together for hours. We cannot say enough good things about LEGO DUPLO bricks! #sponsored [This review was collected as part of a promotion.]

5

5

Average rating5out of 5 stars

LEGO DUPLO All-In-One-Box-of-Fun Play

After the kids played with their LEGO DUPLO My First Dinosaur for a while, we moved on to the LEGO DUPLO All-In-One-Box-of-Fun. They gathered around as my 4 year old son opened it. The little ones were most interested to see what was inside and swish around the bricks once they were opened. They loved taking them out of the box and putting them back in. Many 1 years old even expressed great interest to sit inside it. My 4 year old son loved building the suggested rocket that was in the little booklet that came inside the box. After that, he enjoyed flying it around and crashing it. He then re-built it to be another bigger rocket. Some of the older boys combined those bricks with their dinosaur bricks to build whatever they wanted. I, personally loved the little LEGO boy that came with the box. He's very cute and its fun to watch my son put him in the car and the rocket. It's nice to see some counting and colors being represented in this toy. During the party, I did not get to have one on one time with my 1 year old and these bricks so I look forward to doing that shortly. We are very happy we were given this free LEGO DUPLO set. It's a great addition to all our other LEGO DUPLO sets. #LEGODUPLOParty #Sponsored [This review was collected as part of a promotion.]

5

5

Average rating5out of 5 stars

Classic toy, endless creations!

Some toys are classics and need no improvement. LEGO DUPLO bricks are the gold standard for quality children's toys that withstand years of play and are durable enough to be passed down to the next generation. My son absolutely loved his LEGO DUPLO All-In-One-Box-of-Fun that he received! His eyes lit up as we opened the sturdy storage box (all toys should come with a storage box!), and we explored the contents. We love the animals, with sweet detailed faces and feet that fit easily onto the bricks. The animals were his favorite part of the box! His sister loved the counting bricks, and had fun searching for and stacking the numbers in sequential order. Both kids enjoyed making houses and building creations to go in the wagon. The best part is that we still own the LEGO DUPLO bricks that I played with as a child (in the 1980s!), and while some were a little faded compared to these new bricks, every piece fit seamlessly together so my kids could have even more fun and build even more creations. Endless possibilities, endless imagination, endless play. LEGO DUPLO bricks really are the classic, heirloom-quality toy that are great for decades of play. [This review was collected as part of a promotion.]

5

5