LEGO®
Kranieflænser
Produktet er udgået og sælges ikke længere
Kranieflænser

4.6

5

5

.
Average rating4.6out of 5 stars
Advarsel!
Risiko for kvælning.
Små dele og kugle.
FIND FLERE PRODUKTER SOM DETTE
Produktoplysninger
Angrib fjenden med den firearmede kranieflænser!
Funktioner
Kranieedderkopmaske og maskeudløser, skal med sej metallisk brystdekoration, fire stridsarme, tre krogklinger, maskeklo med gennemsigtig orange kæde og krog, sølvfarvede knogler, gennemsigtig brystkasse og justerbare led.
Drej hjulet for at bruge alle fire stridsarme.
Vip heltenes masker af med krogklingerne.
Snup heltenes masker med maskekloen.
Brug maskeudløseren, så kranieedderkopmasken hopper af.
Holdbart design til actionfyldt leg.
20 cm høj.
Kombinér sættet med Kraniekriger(70791) og Kraniebasker (70793) for at bygge en tohovedet kriger – se hvordan på LEGO.com/BIONICLE/bi
Byggevejledninger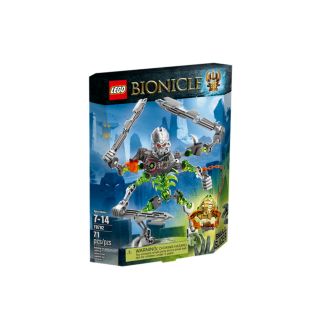 Produktanmeldelser
Samlet bedømmelse
Average rating4.6out of 5 stars
100% af anmelderne vil anbefale dette produkt.
Bedømmelse
Samlet erfaring
Vær opmærksom på, at hvis du stemmer på, hvor nyttig en anmeldelse er, indsamles og gemmes din IP-adresse af en betroet tredjepartsleverandør. Dette sker udelukkende med det formål at forhindre, at der stemmes flere gange fra den samme IP-adresse. Du kan læse mere om, hvordan du kontrollerer dine persondata, i vores Politik om beskyttelse af personlige oplysninger.
Anmeldelser