Iron Man: Detroit Steels angreb

Marvel Super Heroes
LEGO®
Iron Man: Detroit Steels angreb
Produktet er udgået og sælges ikke længere
Iron Man: Detroit Steels angreb

4.625

5

8

.
rating.prefix4.6rating.postfix
Advarsel!
Risiko for kvælning.
Små dele.
FIND FLERE PRODUKTER SOM DETTE
Produktoplysninger
Send Iron Man ind for at undsætte Agent Coulson fra Detroit Steel!
Vare

76077
Alder

7-14
Dele

377
Funktioner
Hjælp Iron Man med at redde Agent Coulson fra Justin Hammer i den yderst bevægelige og sværtbevæbnede robot Detroit Steel med minifigurcockpit, armmonteret motorsav og seksknopskyder. Agent Coulsons klassiske bil har udfoldelige vinger til højtflyvende rollelege og eventyr. Tre minifigurer medfølger.
Tre minifigurer: den uovervindelige Iron Man, Agent Coulson og Justin Hammer.
Robotten Detroit Steel har minifigurcockpit, fuldt bevægelige arme, ben og hænder, to bevægelige vinger, armmonteret motorsav og seksknopskyder.
Agent Coulsons bil Lola har to døre, der kan åbnes, og hjul, der kan foldes til flyvetilstand.
Sæt energiskudselementerne på Iron Mans hænder, og før dem indad for at affyre!
Fold Lolas hjuls til flyvetilstand, og kom hurtigt væk.
Våben: Agent Coulsons skyder og energiskudsvåben, der er nye i foråret 2017.
Tre gennemsigtige blå raketmotorelementer.
Alderssvarende bygge- og legeoplevelse for børn i alderen 7-14 år.
Detroit Steel er over 14 cm høj.
Lola er over 4 cm høj, 14 cm lang og 6 cm bred.
Byggevejledninger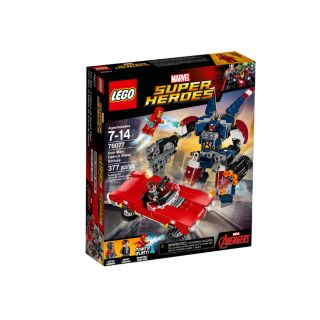 Produktanmeldelser
Samlet bedømmelse
rating.prefix4.6rating.postfix
100% af anmelderne vil anbefale dette produkt.
Bedømmelse
Samlet erfaring
Vær opmærksom på, at hvis du stemmer på, hvor nyttig en anmeldelse er, indsamles og gemmes din IP-adresse af en betroet tredjepartsleverandør. Dette sker udelukkende med det formål at forhindre, at der stemmes flere gange fra den samme IP-adresse. Du kan læse mere om, hvordan du kontrollerer dine persondata, i vores Politik om beskyttelse af personlige oplysninger.
Anmeldelser