THE LEGO® BATMAN MOVIE
LEGO®
Indbrud i bathulen
Produktet er udgået og sælges ikke længere
Indbrud i bathulen

4.7368

5

19

.
rating.prefix4.7rating.postfix
Advarsel!
Risiko for kvælning.
Små dele.
FIND FLERE PRODUKTER SOM DETTE
Produktoplysninger
Beskyt bathulen mod Pingvinens indbrud!
Vare

70909
Alder

8-14
Dele

1047
Funktioner
Forsvar bathulen mod Pingvinens indbrud på andefartøjet i sættet LEGO® BATMAN: FILMEN: Indbrud i bathulen. Den detaljere bathule har et roterende forvandlingskammer, hvor Bruce Wayne™ "forvandles" til Batman™, roterende kontrolcenter med batcomputer, flere skærmelementer og funktion til at hæve platformen samt et fængsel med eksplosionsfunktion til flugt gennem muren. Bathulen har også en roterende garderobe med minifigurkroppe med dykker-batdragt, raseri-batdragt og batgruppe-batdragt til Batman. Skru op for konflikten ved at bruge batbådens missiler med fjederudløser mod andefartøjets to knopskydere og knipsemissiler. Fire minifigurer og to håndlangerpingviner medfølger.
Fire minifigurer: Batman™, Pingvinen, Bruce Wayne™ og Alfred Pennyworth™ samt to håndlangerpingviner, der begge har robotlignende hænder.
Actionfyldt sæt med detaljeret bathule, batbåd og Pingvinens andefartøj.
Bathulen har roterende forvandlingskammer, hævet og roterende kontrolcenter med flagermusformet batcomputer med flere skærmelementer, drejestol, funktion til at hæve platform, to skabe til at skjule Batmans bataranger samt Batman™ logoflise, fængsel med eksplosionsfunktion til flugt gennem muren og roterende garderobe med tre forskellige batdragter (minifigurkroppe) til Batman.
Placer minifiguren af Bruce Wayne™ i den ene side af forvandlingskammeret, og drej det for at afsløre den skjulte minifigur af Batman™.
Aktivér platformen, der kan hæves, for at flytte en minifigur fra jorden op til kontrolcenteret med batcomputeren.
Vælg minifigurkrop med dykker-batdragt, raseri-batdragt eller batgruppe-batdragt til Batman™ i den roterende garderobe.
Batbåden har minifigur-cockpit, to missiler med fjederudløser og hemmelig udløser, fire knopskydere og flagermusvinger bagtil.
Pingvinens andefartøj har minifigur-cockpit med justerbart håndtag, to dobbelte knopskydere, to knipsemissiler og roterende skrue.
Våben: Batmans to bataranger og håndlangerpingvinernes savklinger.
Tilbehør: Batmans kappe og støbte udstyrsbælte, der er nyt i foråret 2017, iltapparat, svømmefødder, mikrofon og guldfarvet maske, Pingvinens pelskrave, paraply og høje hat og Bruce Waynes glas.
Alderssvarende bygge- og legeoplevelse for børn fra 8 år.
Bathulen er over 21 cm høj, 40 cm bred og 20 cm dyb.
Batbåden er over 6 cm høj, 20 cm lang og 12 cm bred.
Andefartøjet er over 9 cm højt, 12 cm langt og 10 cm bredt.
Byggevejledninger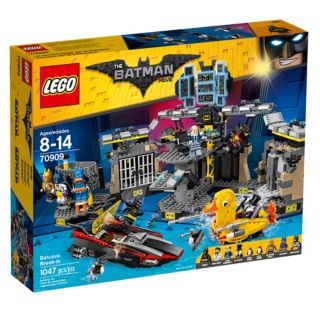 Produktanmeldelser
Samlet bedømmelse
rating.prefix4.7rating.postfix
100% af anmelderne vil anbefale dette produkt.
Bedømmelse
Samlet erfaring
Vær opmærksom på, at hvis du stemmer på, hvor nyttig en anmeldelse er, indsamles og gemmes din IP-adresse af en betroet tredjepartsleverandør. Dette sker udelukkende med det formål at forhindre, at der stemmes flere gange fra den samme IP-adresse. Du kan læse mere om, hvordan du kontrollerer dine persondata, i vores Politik om beskyttelse af personlige oplysninger.
Anmeldelser