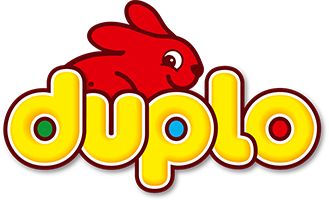 DUPLO®
LEGO®
Godstog
Tilgængelig nu
Godstog

5

5

3

.
rating.prefix5rating.postfix
Limit 5
Limit
We restrict the purchase limit available to a single household to ensure fairness for all of our fans. If you've already reached this limit through previous orders, your order may be cancelled.
FIND MORE PRODUCTS LIKE THIS
Product Details
Bare skub til det seje LEGO® DUPLO® Godstog for at sende det af sted til havnen!
Item

10875
VIP Points

109

VIP Points

The VIP Points value shown is an estimate and actual points will be calculated when you check out.
Ages

2-5
Pieces

105
Features
LEGO® DUPLO® Godstog er nu endnu nemmere for dit barn at styre og lege med på flere forskellige måder. Små børn kan blive lokomotivførere med skub-og-kør-motoren – et blidt skub enten frem eller tilbage sender toget på vej, og hvis det holdes fast eller løftes af skinnerne, stopper det. Hjælp barnet med at placere de 5 farvede handlingsklodser langs sporet for at tude i hornet, tænde og slukke for lysene, holde pause og tanke op, skifte retning og standse toget, hvor det passer bedst. Med havn, båd, café, læssestation, 2 kraner, 3 DUPLO figurer, dyrefigur og masser af togskinner i dette LEGO DUPLO sæt kan små børn nyde klassisk og sjov leg med tog. Download appen for at få endnu flere legemuligheder, bl.a. fjernbetjening og sjove aktiviteter, du kan gennemføre med dit barn!
LEGO® DUPLO® figurer af godstogfører, kaptajn og butiksindehaver samt mågefigur.
Skub-og-kør-lokomotiv, der kan bygges, med lys og lyd, 2 godsvogne med tippefunktion, 5 farvekodede handlingsklodser, havneområde med lille kran og båd, stor kran, café, læsse-/lossestation og 24 banestykker, bl.a. sporskifter, bakker, overskæring og stop.
Tilbehør: benzinpumpe, kaffemaskine, kop, chokoladebar, mælkeflaske, fiskenet, brød, bananer, pakke, kasseapparat, skruenøgle, fisk og menu.
Alle børn kan starte toget med et let skub fremad eller bagud, og det kan stoppes igen ved at sætte hånden med et fast tryk på lokomotivet.
Vis dit barn, hvordan man anbringer de 5 farvede handlingsklodser og flytter dem rundt på skinnerne, så toget tuder i hornet, tænder for lyset, tanker op, ændrer retning eller stopper.
Hjælp dit barn med at læsse og losse fragtvognene med tippelad ved hjælp af den bevægelige kran.
Skub til toget for at sende det mod havnen og hente fisk fra båden.
Nyd at udspille butiksscener med dit barn, når togføreren stopper for at få frokost på caféen.
Få flere legemuligheder ved at downloade den gratis app med fjernbetjeningsfunktion og sjove aktiviteter for små børn.
Toget og skinnerne i dette sæt er kompatible med barnets eksisterende LEGO® DUPLO® togsamling.
Prøv at lade den lille båd flyde i badet! ADVARSEL: Lokomotiv og batterier må IKKE anbringes i eller anvendes i nærheden af vand.
Download appen fra App Store, Google Play eller Amazon Kindle Store. Læs mere på LEGO.dk/devicecheck.
LEGO® DUPLO® produkter er skabt til at være sjove og sikre for de mindste.
Bruger batterier (medfølger ikke). Se type og antal på produktets emballage.
Kombiner sættet med 10872 Togbro og spor, 10874 Damptog og 10882 Togspor for at få endnu flere sporkombinationer og mere LEGO® DUPLO® togsjov.
Godstoget med godsvogne er over 10 cm højt, 47 cm langt og 8 cm bredt.
Stationen er over 18 cm høj, 15 cm bred og 13 cm dyb.
Den store kran er over 35 cm høj, 16 cm bred og 16 cm dyb.
Båden er over 17 cm høj, 19 cm lang og 13 cm bred.
Building Instructions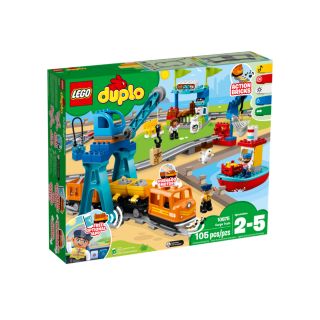 Customer Reviews
Overall Rating
rating.prefix5rating.postfix
100% would recommend this product.
Please note that by submitting a helpfulness vote on a review your IP address is collected and stored by our trusted third party service provider for the sole purpose of preventing multiple entries from the same IP address. To see how to control your personal data, please see our Privacy policy.
Reviews
rating.prefix5rating.postfix

I would recommend this to a friend!

Recently purchased this for my 3 year old son. He loves it and can't get enough. We already had one train set and got this one for him for his birthday. The trains and tracks are consistent with his existing set (works great together). This set has the new action bricks that adds to the train fun....

5

5

rating.prefix5rating.postfix

I would recommend this to a friend!

One of the favorite games to my 4 years boy.. it is awesome

Building Experience:

Mellemgod LEGO bygger

5

5

rating.prefix5rating.postfix

I would recommend this to a friend!

My 2 year old loves this train. The idea to colour code the track was genius. I would recommend it to anyone with a child 2 to 5. Get extra tracks too, to make fun configurations.

Building Experience:

Mellemgod LEGO bygger

5

5